Want to know how to build your profitable personal brand & market it? Learn the 6 important steps required to build a personal brand with Vonza.
Your personal brand refers to how you market yourself. It is the picture that people see of you.
Ever wondered why some individuals pump out viral post after viral post? Or why some people's products or services are "hot cake" in the market?
The explanation is straightforward. These Individuals have been able to establish a strong personal brand.
Your personal brand helps you stand out from everybody else. It even makes it easier for you to launch digital products and sell online courses faster.
You may also be wondering, why is it so important to build a personal brand?
A personal brand gives you the chance to ensure that people see you in the way you want them to. With this, you will gain so much trust from a large number of people.
Personal branding is a crucial content marketing strategy. You can simply become an influencer which is a hot cake digital marketing approach.
Importance of a Personal Brand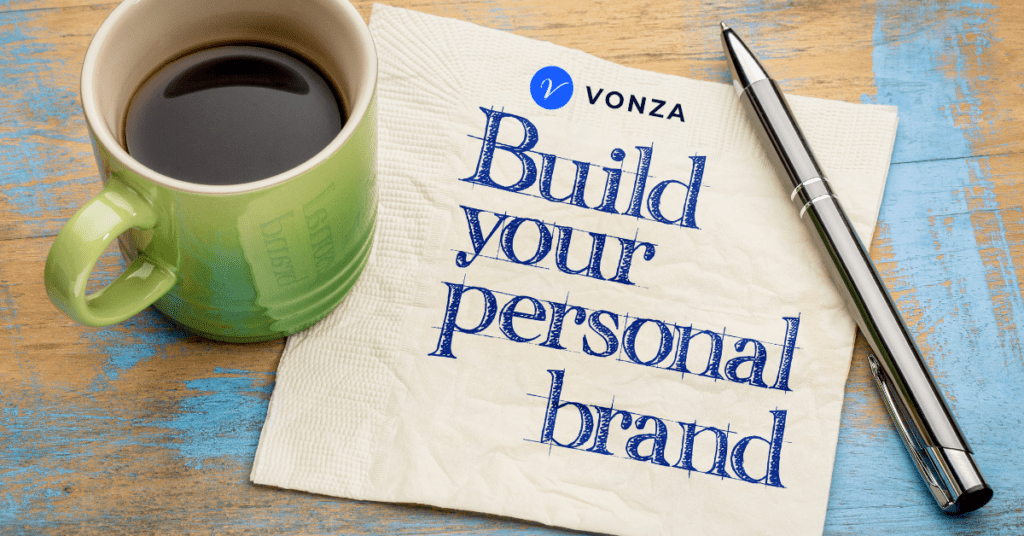 Trust gain from your target audience
A personal brand helps you to establish authority in your niche
It makes it easier for people to connect with you
It stays with you even when you switch business
People will be willing to pay a higher price for your product
It is easier for people to refer clients to you
You easily become an influencer
A personal brand is a key to your professional success.
How do I build a personal brand to promote my business? This is exactly what you shall learn today. But first, choose a niche and understand your target audience.
Steps To Build A Personal Brand
After so much research here at Vonza, we've been able to compile the 6 steps for you to build a compelling personal brand. The good news is that you are getting everything for free.
1. Be Authentic
The idea of a personal brand is to create the person you want others to see you as. Many persons choose to project who they are not to the public eyes.
Persona is the aspect of someone's character that is presented to or perceived by others. It is a character assumed by an author in a written work.
Your personal brand should not be a fake persona. Branding is not about placing yourself as something that you are not. It's about consciously and strategically showcasing your genuine self to your target audience.
Your personal brand should be a true reflection of your skills, passions, values, and beliefs. This is why you must continually improve and invest in your personality.
Recommended: How to find your coaching Niche
According to Lao Tzu, The journey of a thousand miles begins with one step. Building a personal brand requires you to ask and answer the following foundational questions:
What do I want to be known for? (Vision)
What personal traits can I weave into my brand?
What is the message I really wish to pass across?
Why do I want to build a personal brand? (Mission)
For whom will this brand be built? (Audience)
2. Find Your Target Audience
Target Audience refers to the people your product and services are primarily designed for.
Your audience can be in one country or different countries around the world. You can find the right audience for your products up to their age, gender, income, language, and interest.
You must focus on the right people. The good news is that there are audiences for every service you wish to render. Your sure bet is to identify the right people. It is extremely important to define your target audience.
You can analyze your target audience through the following categories:
Location
Age
Income
Language
Hobbies
Purchase Interest
Career
Values
To choose a target audience for your personal brand, you must research your niche, take analytics audience and analyze competitors.
Recommended: Detailed steps to find your target audience
3. Create Compelling offers
After a strong understanding of your niche and target audience, the next step is pushing out products or services with compelling offers.
Identify what your target audience needs, and create products or services with unique names and value. Simply make everything about your brand unique and interesting.
In order to build a profitable brand, you need to have something to sell to your target audience. You need an irresistible offer that helps your audience solve a specific problem or achieve a specific result.
A lot of entrepreneurs make the mistake of creating a product or service that they want, only to discover that no one else wants it or is willing to pay for it.
This is why identifying your perfect client before you create a personal brand, a product or service is so important. When you know exactly who you want to help, you can create an offer that is the perfect solution for them.
Compelling Offer Formula:
What you love to do + What you do best + What your audience wants most = Compelling offer
Once you have an irresistible offer, you need to be able to articulate it clearly to your audience. Here are two questions that you need to be able to answer clearly and succinctly:
Vonza, for example, helps businesses create and sell Online Courses, schedule a meeting, send emails, and build Online Store, and Membership Site.
4. Setup A Personal Website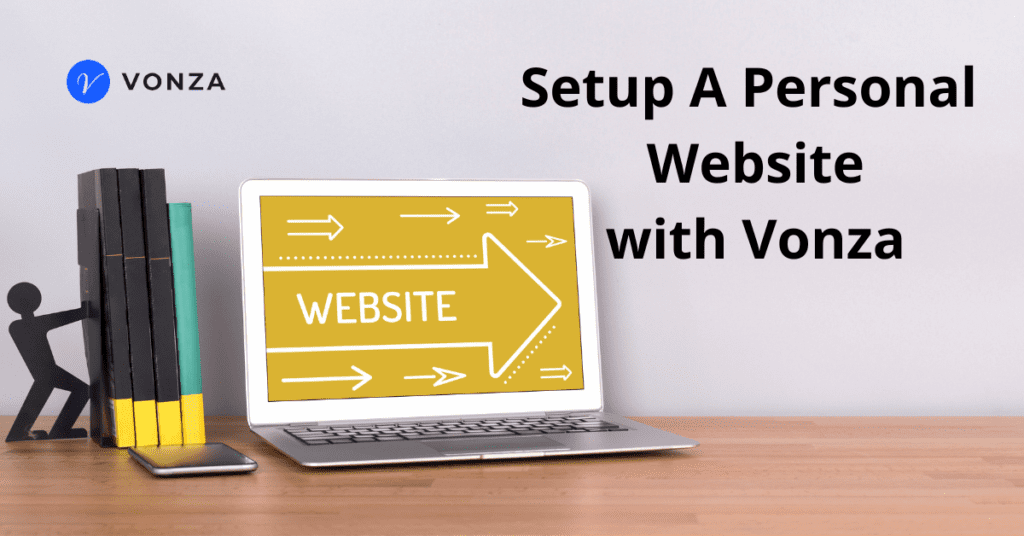 Your personal brand urgently needs a website. This isn't the time to enjoy doing business physically.
Building a personal website is now easier than ever. All you need is a Website builder to set up a powerful online presence.
Vonza website builder is the best site builder if you consider its many added features. Those features make it easy to build and monetize your products and services on Vonza.
Moreover, you won't have to worry about security or your website becoming slow. Other notable features include mobile-first design, and subscription forms, among other features.
Your website is a platform that you own and control, and in many cases, visiting your website will be one of the steps your target audience takes towards becoming your client.
Personal Website Features
You must add the following elements to your personal website.
Logo
Your vision and mission
Professional Photography
Products/services page
Social media share buttons
Social media handles
Testimonials
Call to Action
About Page
Contact Page
Privacy Policy
Blog posts, podcasts and/or videos
Recommended
5. Effective Content Strategy for Personal Brand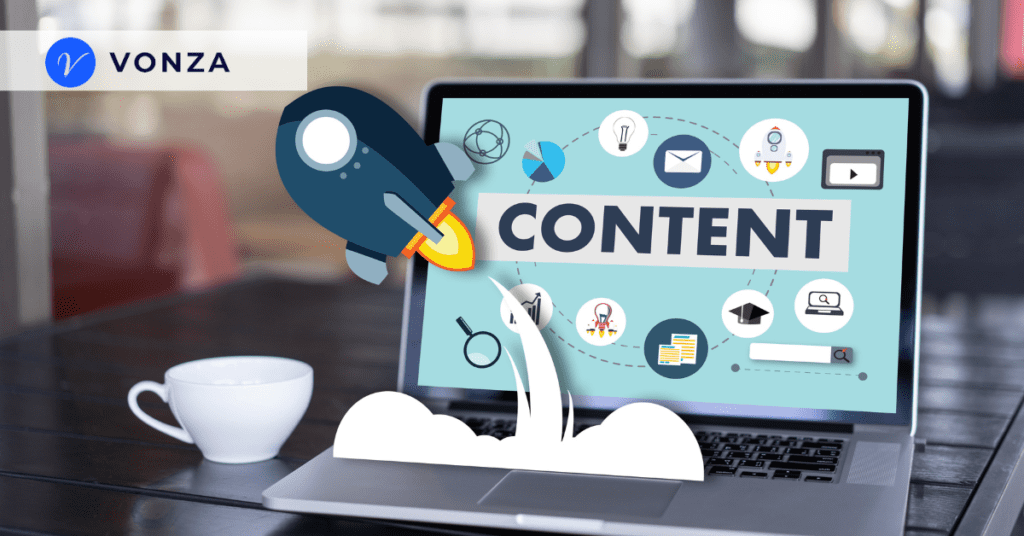 You can't fully utilize your potential without looking at Content Marketing.
According to Wikipedia, Content marketing is a form of marketing focused on creating, publishing, and distributing content for a targeted audience online.
What is Content Marketing Strategy? A content marketing strategy is a document that explains how you intend to use content to attract and engage your target consumers.
Creating and distributing free content is one of the most effective ways to build your brand and earn the trust of your target audience. Instead of trying to convince your audience that you can help them, you create content that actually helps them.
Once you have a list of topics to create content on, the next step is to decide which type of content to create and where you will publish that content.
8 Content Types
Text/Posts
Videos
Podcasts
Webinars
Online courses
PDF guides
Infographics
Slideshows
8 Content Creation Platforms
Blogs and Websites

Podcast directories (iTunes, Stitcher, etc.)

Online publications
Slideshare
Quora
10 Keyword Research Tools
Semrush.
Moz's Keyword Explorer
KWFinder
Google Search Console.
Keywords Everywhere
Ahrefs Keywords Explorer.
Keyword Snatcher
Google Keyword Planner.
KeywordTool.io.
Google Trends
For content marketing to work, it's important to focus on quality and consistency. Don't publish content that will reflect poorly on your brand, and be consistent with how often you publish new content for your audience.
Recommended: Content Editing tools
6. Create A Marketing Strategy for Personal Brand
People can't talk about your brand when they don't see it. You must make your brand visible to even the blind and audible to even the deaf.
Here are some common ways to increase your visibility:
Get interviewed as a guest expert on podcasts, and virtual summits, as well as for traditional media including TV, radio, and print magazines.
Write articles for other blogs and online publications that your target audience reads.
Apply to speak at live events, local Meetup groups, and conferences that your target audience attends.
Building mutually beneficial relationships with other people and companies can lead to a number of opportunities including guest blogging, interviews, joint ventures, partnerships, and customer referrals.
Build a Community
Build an Online Community
Instead of trying to build a large and broad audience, shift your focus to becoming a boss of a community in a specific niche.
A woman can't be said to be beautiful if nobody sees her. Create and promote your personal brand like never before.
Did you find this content helpful? If yes, feel free to share with others using the share buttons. Don't fail to let us know how you feel using the comment box.
Vonza makes it easy to sell online courses, memberships, and products, and turn your knowledge into income. Get started for free or choose a plan at Vonza.com