Online courses used to be regarded as inferior to traditional schooling. That has now changed, thanks to institutions such as MIT and Harvard embracing the online course idea.
As of 2021, the online learning industry is valued at over $250 billion, and it is projected to grow to $1 trillion by 2027 if it maintains a CAGR (Compound Annual Growth Rate) of over 21%.
This huge market is up for grabs by teachers and professionals, thanks to the rise of online course platforms.
Students can also benefit by getting freemium courses, at a fraction of what they could have paid at a traditional institution of higher learning.
With that in mind, here are reviews of the Best Online Course Platforms to look out for in 2023.
We will cover their pricing, features, and benefits. This guide is a list of online learning platforms for both teachers and students seeking to teach or learn online.
Best Platforms For Teaching and Learning
1. Vonza
Vonza online courses platform is an all-in-one platform for launching, running, marketing, and selling your online courses.
Vonza eliminates the need to juggle multiple platforms in order to make your online courses a success.
Some of the outstanding features of Vonza include easy upload of course content, multiple course pricing options, and a secure Stripe payment option for students.
The course pricing options include drip pricing, monthly subscriptions, upsell pricing, and one-time payments. The varying pricing models make it easy for students to enroll in your online course, even when they are on a tight budget.
You also have an option to offer a free trial, which works well for enrolling new students for your online courses.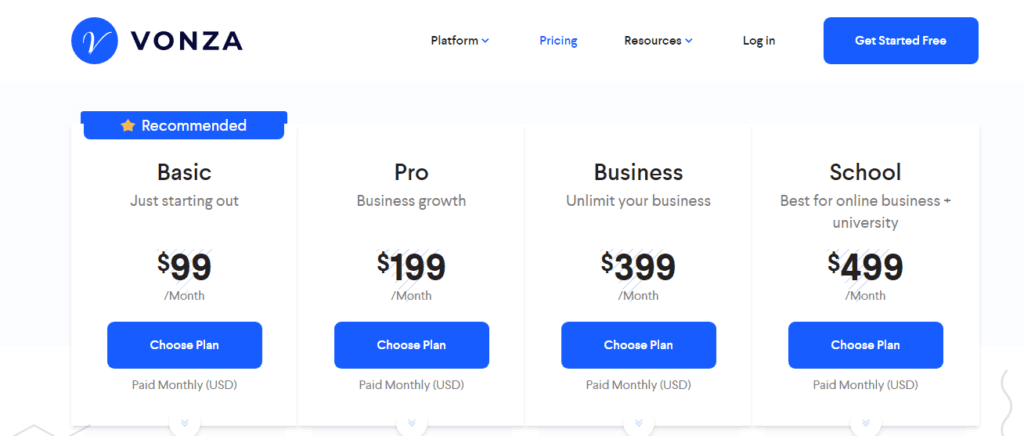 Some of the other notable bundled features that make Vonza stand out are email marketing, SMS marketing, Sales Funnels, Class Scheduling software, Landing Page, a website builder, an online shop, and an online university and school solution.
Those features make it easy to market and scale your online course, to a fully-fledged online school if that's your vision. You can also use them to just create a self-paced course and sell them as packages on your online store.
With regard to pricing, Vonza is priced to offer value for money. You can start with a 30-day free trial without a credit card.
The trial helps you to get a feel of what the platform has to offer. That will make it clear why it is among the top platforms to create online courses.
You can then opt for the Pro package priced at $199 per month, which gives you everything to launch your online course. You may also choose the Basic plan which costs $79 per month, or go for the Business package at $399 per month.
2. Thinkific
Thinkific is a trimmed-down version of Vonza, where you can publish your course content.
Thinkific makes it easy for your students to buy and learn from your online course. You can also use it to launch your online course directly on your website, or you can build a website on Thinkific.
Like Vonza, you have an option to add a custom domain if you use the Thinkific website builder and customize your website from existing templates.
The Thinkific site themes are designed for education businesses, which takes out the need to design a layout with tools such as Canva.
If you haven't created a course before, you can use their course template to quickly launch your online course website. The feature is similar to Vonza's quick launch online course feature, which makes it easy for both educators and students to use platforms such as Thinkific or Vonza.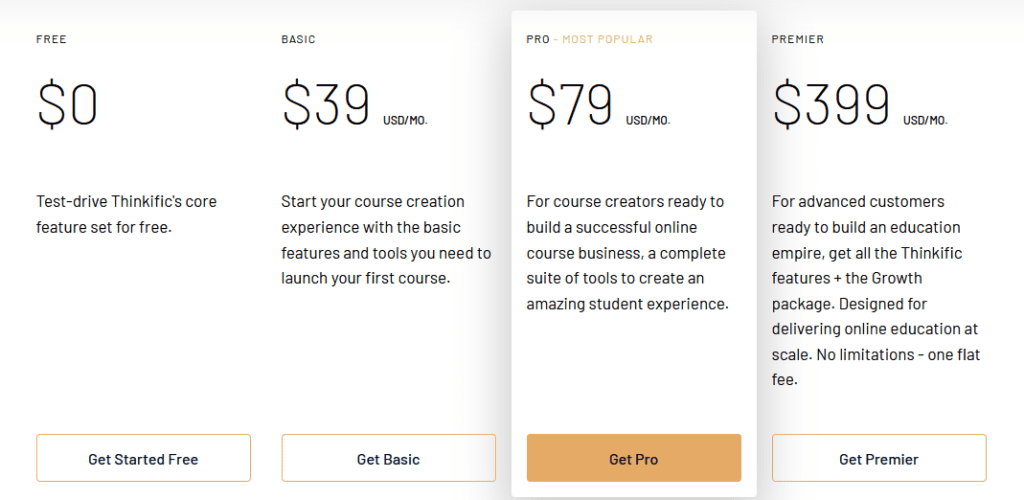 The most notable Thinkfic feature is the bulk importer, which makes it easy to upload your course content at once.
You can use it to break up your content into chapters or modules. You may also use the Modules feature to upload course videos, quizzes, surveys, and presentations.
When it comes to pricing, Thinkific offers a Free, Basic – $ 39, Pro, and Premier Plans – $399. The Pro plan is the most popular plan, and it is priced at $ 79. As you will notice, these plans don't include the bundled features included in the Vonza plans.
3. Teachable
Teachable is an online platform where course creators can create, market, and monetize their content. The platform also makes it possible to connect to an existing website, so you don't have to create a new website if you already own one.
However, you can use their website builder if you don't own a website yet, or if you want to migrate your website to their platform. They don't have multiple marketing tools like Vonza, but they do have an email marketing tool.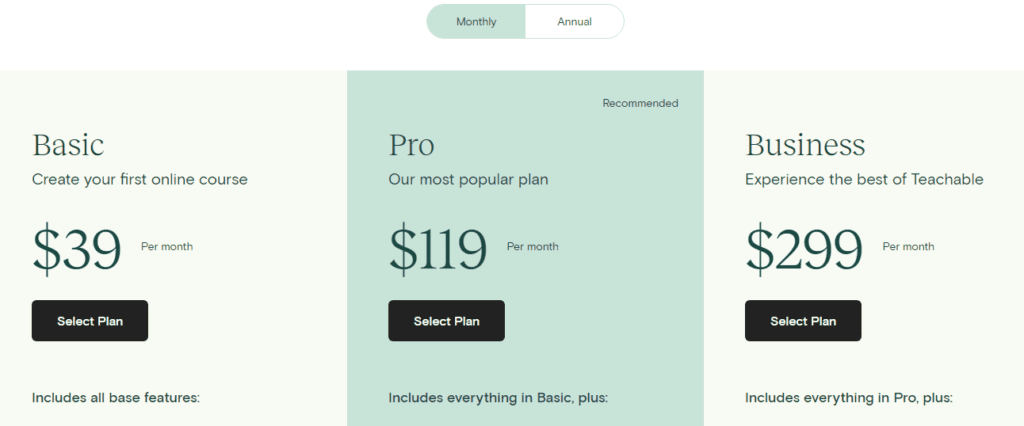 Teachable handles all the sales and accounting for you, making sure you get paid promptly. They also have an affiliate program that you can use to promote your courses.
If your content is great, then you can benefit from the marketing efforts affiliates provide course creators.
With Teachable it's also possible to create an online school and be able to teach your students the way you would want to learn. In that regard, you can easily launch full-time courses, or transition your school to online learning.
Teachable supports third-party integrations, which makes it possible to use features that they don't support natively.
The supported integrations include forms, survey software, and Zapier. With Zapier, you can add a professional customer support service such as Zendesk.
When it comes to pricing, Teachable offers entry-level pricing that matches its services. You can start with a Basic plan that goes for $39 per month, or $29 if you choose the annual plan. Their highest plan is the Business plan, which costs $249, when billed annually, or $299 when billed monthly.
4. Ruzuku
Ruzuku is an online course platform for content creators that targets coaches, educators, and small businesses.
You can use Ruzuku to host all types of course materials, market your course using MailChimp, and accept payments using Stripe, PayPal, or a custom payment system.
Unlike Vonza, it doesn't have native online market tools, such as sales funnels and email marketing software.
However, it has all the basic tools you need to teach an online course, such as Chat, course scheduling, course forums, and email announcement features.
Ruzuku understands the importance of performance analysis, which is why you also have access to performance data for the entire course. You can view student activity, the number of comments, and course completion rates.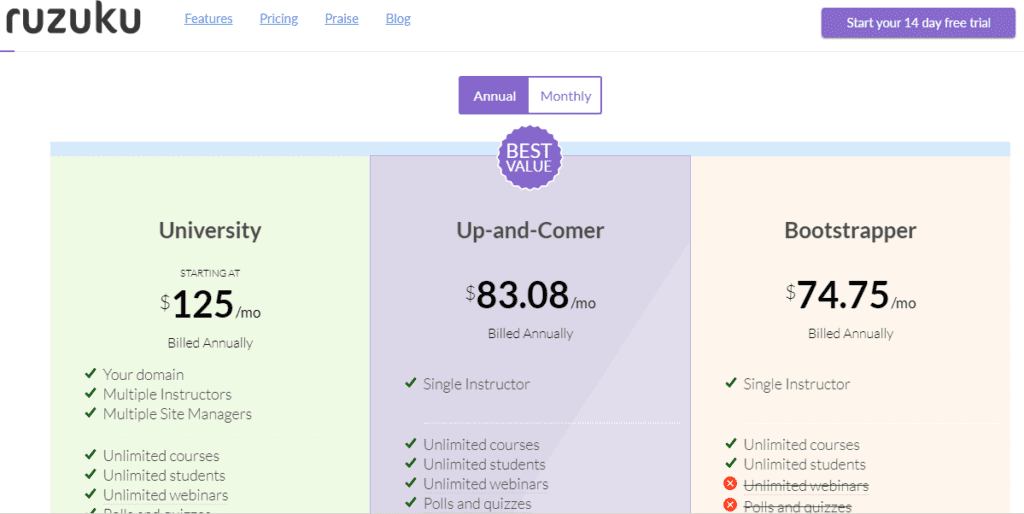 Other great features are the capability to host teleconferences, group chats, automatic recording, and daily content backups.
With Ruzuku, you can also create a course community where students can create a profile, upload their photos, and share bios.
You can choose a monthly subscription that starts at $99/month, or the way up to $199/month. If you want a discounted price, you can opt for the annual plans, which offer up will cost you an average of $74.75/month, up to $125/month for the University plan.
Best Online Teaching Platforms For Teachers
5. LearnWorlds
LearnWorlds is an online course creation, marketing, and selling platform. It's designed for individual course creators and corporate businesses. You can use it to create all types of courses, in whatever format you want.
You can use its marketing tools to market your course, at no extra cost. Its marketing tools include sales funnels and landing pages. However, you need to pay for other third-party tools such as email marketing software.
We consider LearnWorlds a great platform for online courses, and Vonza as being among the top online learning platforms for schools.
It supports lead capturing using customized landing pages, conversion tracking using conversion pixels, and up to five payment gateways that include Stripe, Shopify, PayPal, and Pagseguro!.
You can also accept all the leading currencies ($, £, €, A$, CA$, R$, DKK), offer unlimited courses, and collaborate with other instructors.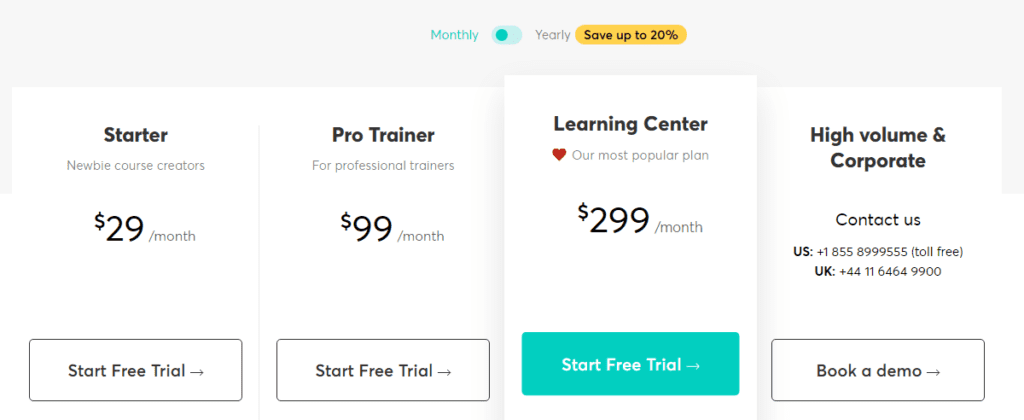 LearnWorlds stands out as a course creation platform because of its flexible pricing, which makes it easy for course creators to launch their courses on a shoestring budget. However, unlike a 10-in-1 course platform such as Vonza, LearnWorlds limits you to selling courses or digital products.
You can create an account with as little as $24/month if you choose the annual Starter plan. The Pro Trainer and Learning Center are priced at $99/month, and 299$/month, if you choose the monthly plans. For corporate clients, they need to contact LearnWorlds and request custom pricing.
Overall, LearnWorlds is the best online training platform for teachers starting on a low budget.
6. Kajabi
Kajabi is a replacement for Katra, Thinkific, and teachable, just as Vonza is designed to replace Kajabi along with the others.
Kajabi makes it possible to create courses, membership sites, communities, podcasts, coaching programs, and newsletters.
With Kajabi, you don't need to use WordPress or Wix to create a website. You can use it to create a website, and then add PayPal or Stripe as payment options. That eliminates the need to use shopping carts such as WooCommerce.
Other important Kajabi features include the ability to use native online marketing tools such as sales funnels, landing pages, and performance analysis tools. Those are the tools you need to create websites like skillshare.
Moreover, you can deliver your course on iOS and Android apps. And as your course becomes popular, you can use it to create online communities around your courses, to increase learner engagement and collaboration.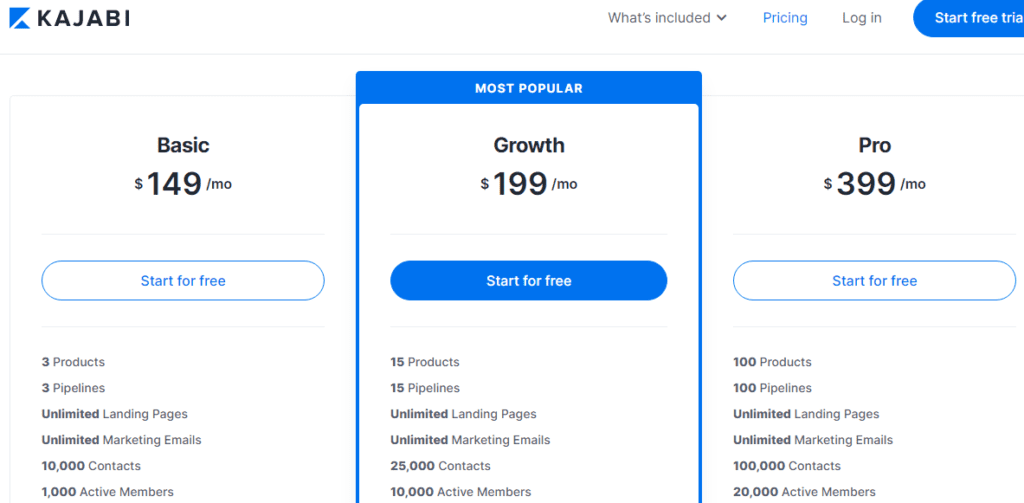 Kajabi pricing is great as its features, with the Basic plan priced at $149/month, the Growth plan at $199/month, and the Pro plan at $399/month.
While you get more features with the Pro plan, you can still launch your online course, market, and sell it with the Basic plan.
Overall, Kajabi does offer value for money, but you still get more value with Vonza.
7. Vonza Memberships
Vonza Memberships enable you to create a paid membership site with just a few clicks. The service makes it possible to sell courses online without having to invest thousands in online software.
Vonza memberships also take away the need to pay multiple monthly subscriptions, to manage your membership site. It is designed for teachers and coaches who love to teach in a community setup. It is also suitable for teaching students who want to join a community so they can learn in a support environment.
With Vonza, you get access to useful tools such as Vonza scheduling, SMS, Chat, and email, which makes collaboration fast and fun.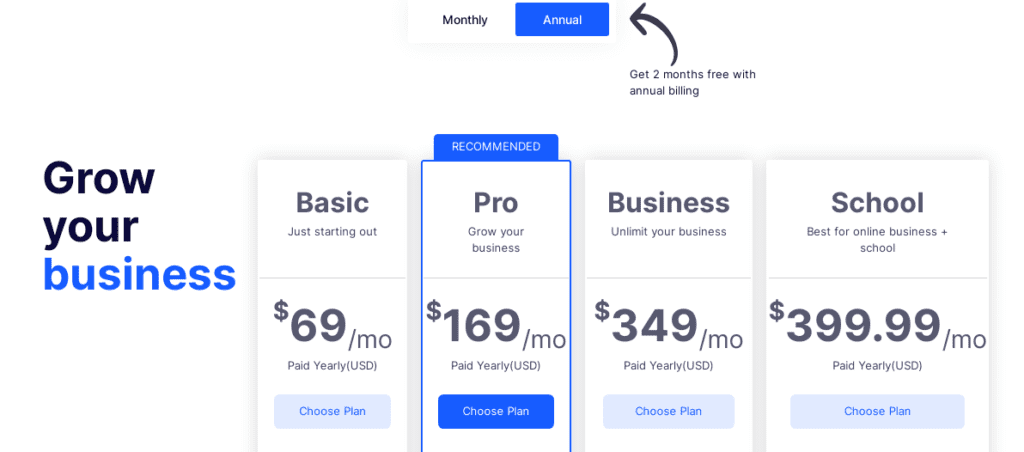 What's more, is that it won't cost you the most to get those additional marketing and student/teacher interaction tools. That makes vonza Memberships the best online teaching platform, for both startups and existing online learning communities.
You can also use Vonza Memberships to create Massive Open Online Courses (MOOCs). That can expand your reach, and increase your overall income.
We recommend that you subscribe to the annual plan, which starts at $69/mo for the Basic plan. You can also opt for the Pro plan at $169/mo, which also happens to be the most popular. The other plans are the Business plan at $349/mo, and School at $399/mo.
When you choose the highest two plans, you get extra features such as: Support & Onboarding, Advanced Analytics, and Reports, and you can remove the "Powered by Vonza" trademark. Moreover, the School plan included the School & University Management software.
Overall, Vonza Memberships gives you everything you need to run an online membership course.
8. WizIQ
WizIQ markets itself as a platform for teachers, course creators, coaches, and learners, who want an easy-to-use online platform for learning. Its strength lies in offering a unique online teaching or learning program.
WizIQ offers you easy integrations of third party tools. In that regard, you can opt for tools such as Vonza, if paying multiple subscriptions isn't appealing to you.
Some of WizIQ's features include the ability to deliver live HD video conferencing, which supports an online whiteboard, unlimited audience, and real-time messaging. You also get access to reports and analytics, which can help you to deliver better services for learners.
With WizIQ, you can upload your course material in any of the popular formats, and learners can access your course from desktops, laptops, iOS, and Android devices. Furthermore, you can create tests and assessments to help your learners track their course progress.
And when it comes to payments, WizIQ integrates a payment gateway in the learning portal. That makes it easy to sell self-paced courses as well as instructor-led courses.
WizIQ is unique when it comes to how they have priced their platform. While they point out you can get started with as little as $25/month that's billed annually, you have to contact them to get the actual quote.
Overall, WizIQ is a decent online learning platform, as much as it doesn't include features such as online marketing tools.
Platforms to Create Online Courses
9. Podia
Podia is an online platform for creating and selling courses online. You create and sell online courses and digital products, as well as selling webinars and memberships (except for the Mover plan). Marketing is an important part of any online business, according to businessolution.org.
With Podia, you can use email marketing to market your products online. Their email marketing service allows you to have unlimited email subscribers, but there are limits on the number of recipients you can email monthly.
The Mover plan has a limit of 5k email recipients per month, while the Shaker and Earthquaker plans have limits of 15k recipients, and 50k recipients respectively.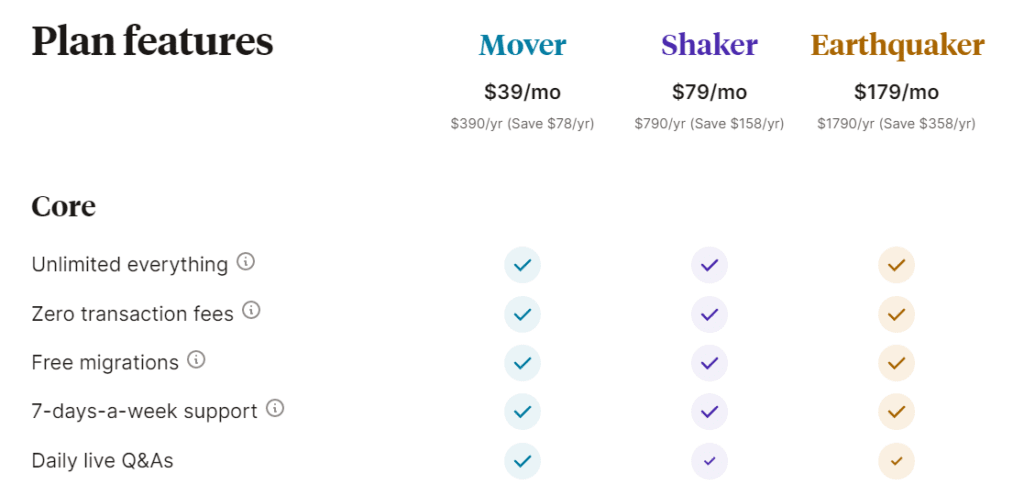 With regards to branding, you have an option to use a custom domain or use Podia's subdomain. However, only subscribers to the Earthquaker plan can remove the "Powered by Podia" branding from their website and emails.
When it comes to pricing, you can pay as little as 39/mo, but that applies to only one user per subscription. The Shaker plan costs 79/mo, while the Earthquaker plan costs $179/mo.
If you have a Virtual Assistant who helps you to manage your course, then you pay an extra $20 for each VA.
The Earthquaker plan includes 5 team slots, at no extra cost to you. Overall, Podia is a stripped-down version of Vonza, which may be what some online course creators need.
10. LearnDash
LearnDash is a WordPress LMS for course creators who prefer to use WordPress to build their websites.
That alone is a plus for many online course creators, who already own a WordPress website. And you can use it to create online learning platforms in the UK.
You can use it to create an online course, and then integrate it with third-party software, to market your course. It also includes native features that you can use to engage with your learners.
Some of the third-party integrations it supports include email software, payment processors, sales funnels, and forms.
Some of LearnDash's native features include automated notification based on learners' actions, awarding certificates and badges, assignment requirements, leaderboards, discussion forums, and awarding course points.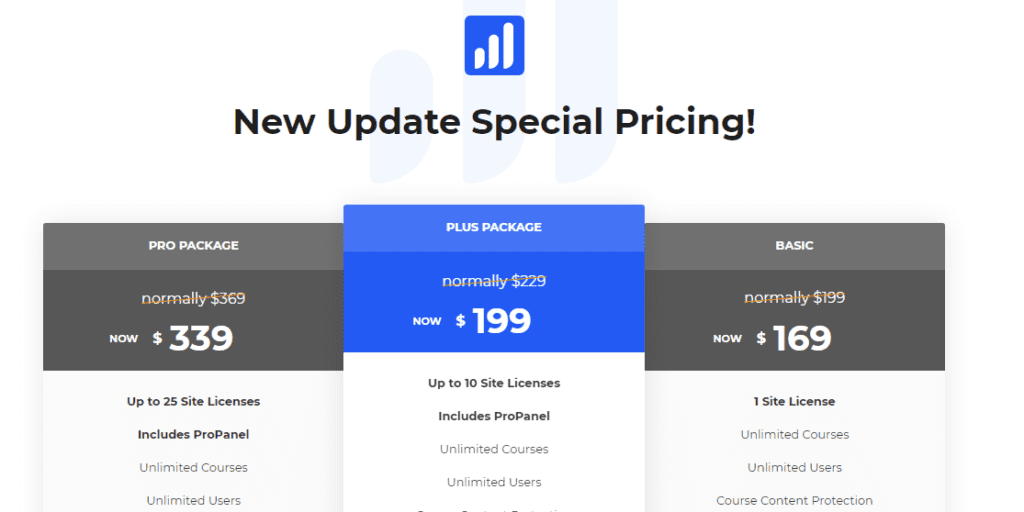 It's also possible to schedule courses, minimize refund requests, and increase your earning potential. Other dynamic course delivery options include drip-feeding lessons, and creating a conditional course level.
For instance, you can require that learners watch each course video before they go to the next course content. Those features replicate the same experience learners can have in a traditional learning institution, which is what makes it a valuable LMS.
And in that regard, it compares well with Vonza Schools. However, you need to integrate third-party applications to earn from your online courses. That makes Vonza a better alternative to LearnDash.
You can access LearnDash by paying for the Pro Package at $339/mo, Plus Package at $199/mo, or the Basic Package at $169/mo.
Unlike other online learning software, the pricing limits the number of sites on which you can install LearnDash, rather than the LearnDash features.
11. Click 4 Course
Click 4 Course is an online course platform that targets course creators and corporate course creators. You can use it to create and deliver online courses, and even to carry out online surveys. It stands out from other online course platforms in its pricing plans.
It has one pricing plan – Sell Courses (External/E-commerce) – for teachers and course creators that want to sell courses online.
This package costs $79/month, though you can get it for $65/month if you choose their annual plan. They also have Internal Courses for corporate clients, which come in three packages.
The first package caters for 100 learners or less, at $99/month, the second caters for 500 learners or less at $199, while the third package caters for 1,000 learners or less.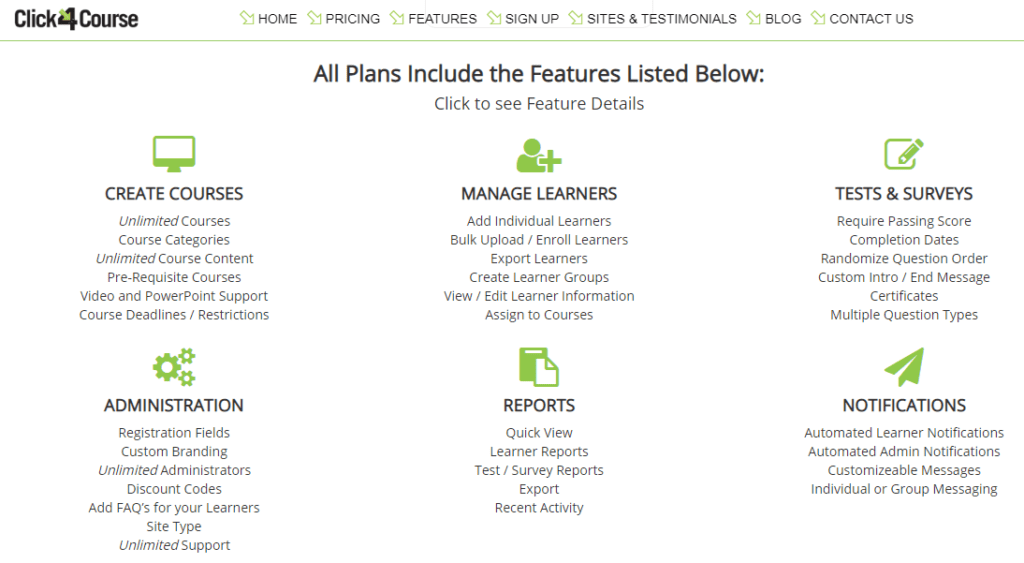 All the plans come with a 20% monthly discount if you subscribe to the annual plans. Moreover, you get access to all the Click 4 Course features, regardless of the package plan you use. Other notable benefits include custom branding for all packages.
Click 4 Course lacks some of the outstanding online course marketing features you get on Vonza. These include email and SMS marketing software, a sales funnel, and forms.
However, it includes important course features such as course administration tools such as deadlines and restriction features for learners, custom branding, and learner management such as enrollment, adding learners to groups, and assigning courses.
You can also award certificates, add course intro/end messages, and include a passing score. Overall, Click 4 Course gives you what you need to teach online and in-house online classes.
12. Zippy Courses
Zippy Courses is a lightweight online course platform for course creators and coaches. It works with any website platform because you don't need to install it on your website. And if you don't have a website, you can use a free Zippy Courses subdomain to launch your course.
Zippy Courses doesn't place a limitation on the number of courses you create. Moreover, it doesn't charge you transaction fees or limit you from using your branding. It integrates easily with email marketing tools and supports three payment processors, – PayPal, Stripe, and Infusionsoft.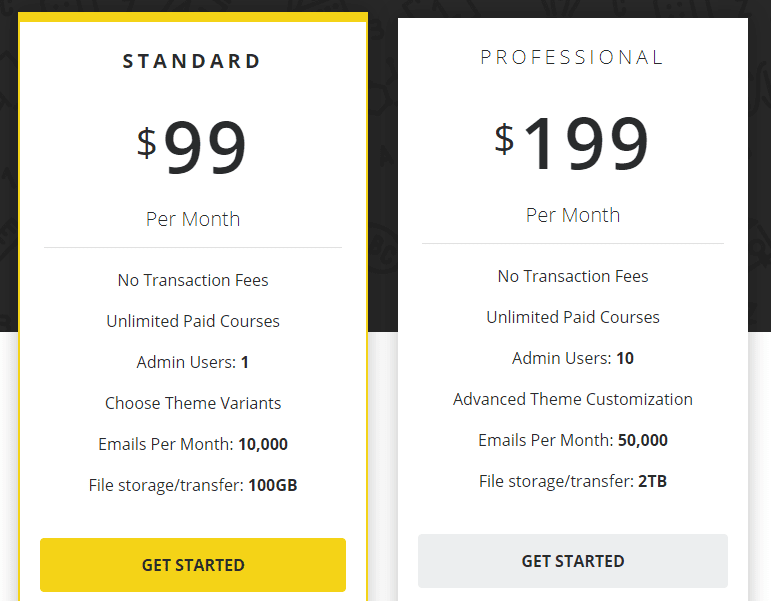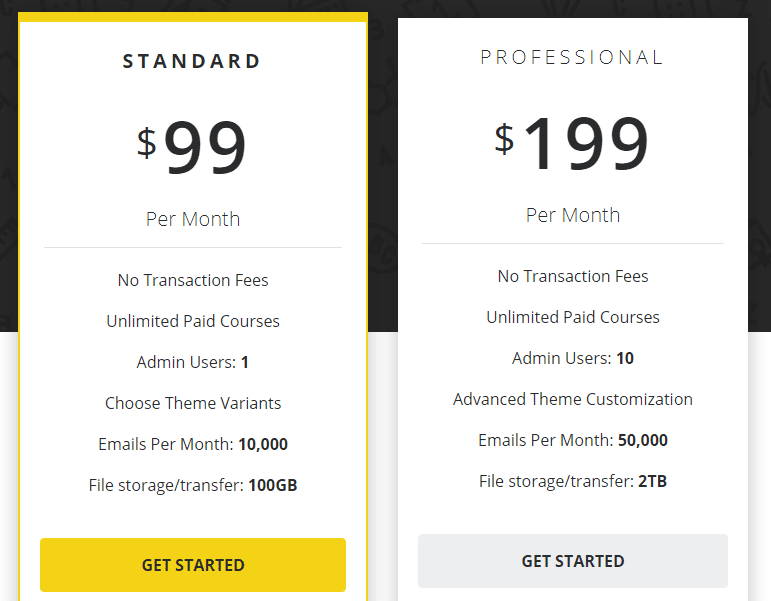 When it comes to pricing, you only have to choose between two plans. They have the Standard pricing at $99 per month, and the professional pricing at $199 per month. You only get 1 admin user with the Standard pricing, while the Professional package supports up to 10-course admins.
With Infusionsoft Zippy Courses, you can build a course by dragging and dropping your course content, add access tiers to your course, increase enrollment by capitalizing on launch windows, release your course at once or "drip it", and keep your students engaged using the follow-up emails.
Overall, it makes it easy to launch and market an online course. That is why many consider Zippy Courses one of the best online teaching platforms for teachers.
However, you still need to subscribe to third-party online marketing software, such as email marketing, sales funnels, and SMS software.
Online Course Platforms
13. Pathwright
Pathwright allows you to create and teach courses online in three major ways. It doesn't have native marketing features such as landing SMS marketing and sales funnels. However, for every other basic tool you need to create and sell your course online, Pathwright has it.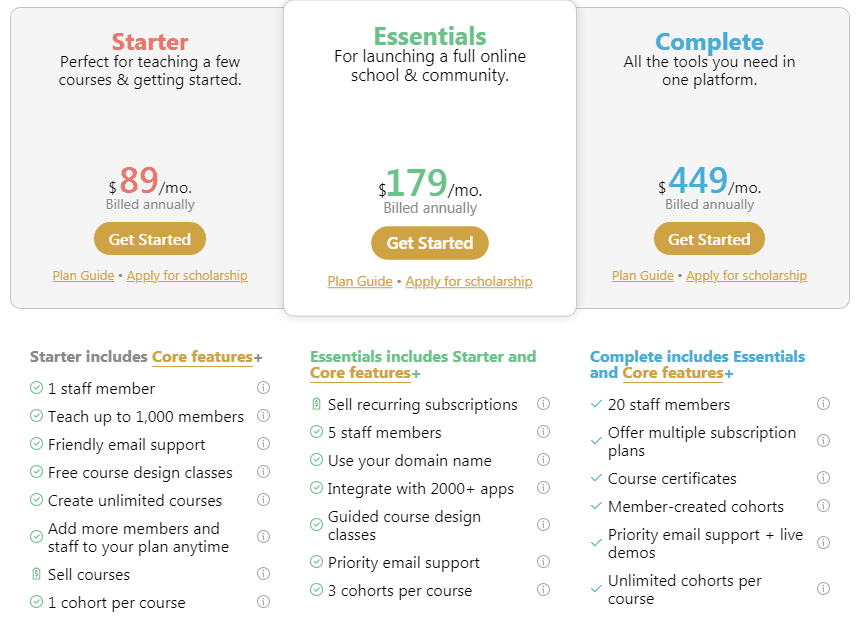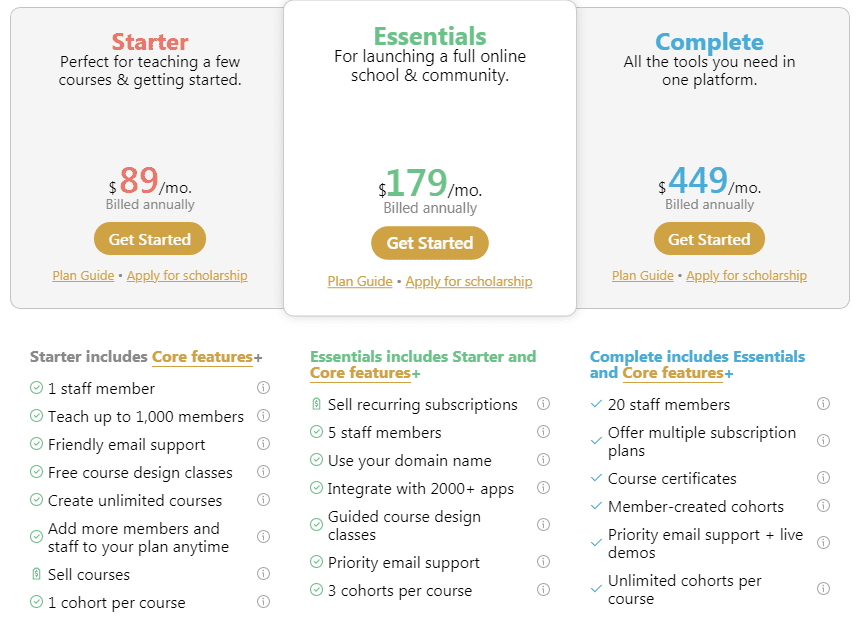 You can use Pathwright to create an interactive online course to increase engagement, using course paths, media, projects, and even awarding certificates. It also allows you to customize and brand your course homepage, which increases trust in your brand.
With multiple pricing options such as subscriptions, group access, and more, you can increase your income, by giving more value to students. Use features such as Radar to better understand how learners are interacting with your course, and help those that are stuck.
Pathwright pricing starts at 89/month for the Starter plan and all plans include an inbuilt email notification system. The other plans start at $170/month for the Essentials plan, and $449/month for the complete plan.
While Pathwright isn't a true one-in-all online course platform like Vonza, it does offer the basic features you need to launch an online course.
14. Academy of Mine
Academy of Mine is a corporate online course platform that helps businesses and firms to create an online learning platform for their staff and customers. You can customize your online classroom or course dashboard with your brand colors, irrespective of the package you choose.
Moreover, you can include your label and brand name, to own your online course platform fully. That makes it ideal for large enterprises where branding is necessary.
However, as you can expect, the Academy of Mine subscription starts at $599 per month for the Essentials Plan. That is above what SMEs would consider a budget LMS pricing. They also have the professional plan at $899 per month, but for the Enterprise plan, you have to request a quote.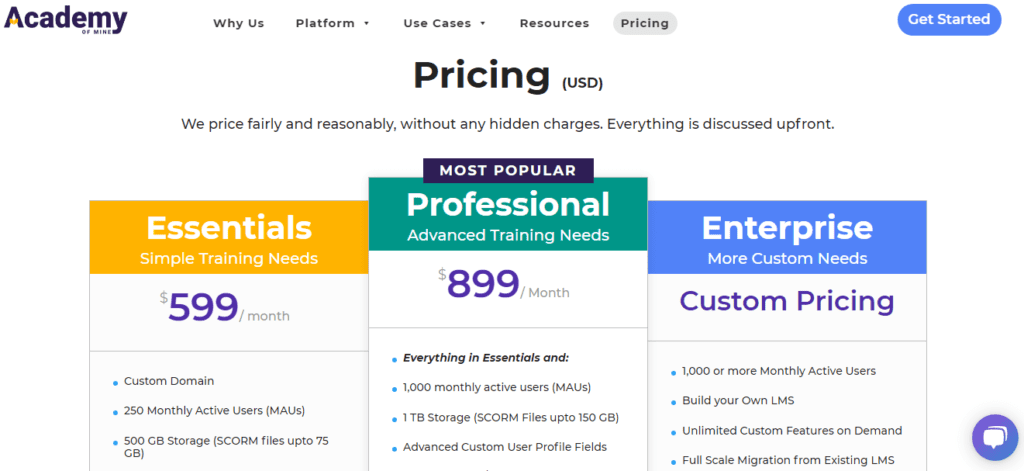 Some of its top features include a drag-and-drop online course builder, course control features such as "drip content" pricing, course locking, and minimum course achievements/requirements before progression, among other course delivery features.
The course builder supports both the WYSIWYG editor and HTML editor. That gives technical and non-technical course creators more flexibility to customize their courses.
Other important features include the ability to embed SCORM 2004 and SCORM 1.2 packages, on-platform messaging, and emailing between instructors and students.
The Academy of Mine lacks online marketing features such as email marketing software, sales funnels, and forms.
15. Teachery
Teachery is an online course creation platform that targets individual course creators and educators. Unlike Vonza, it is a simpler platform that focuses on simple course creation and selling business models.
Teachery boasts of being simple to use, and affordable, but with enough features to make it easy to brand and market your course.
If you plan to use Teachery, then you have to invest in online marketing tools such as forms, SMS marketing software, sales funnels, and email marketing software.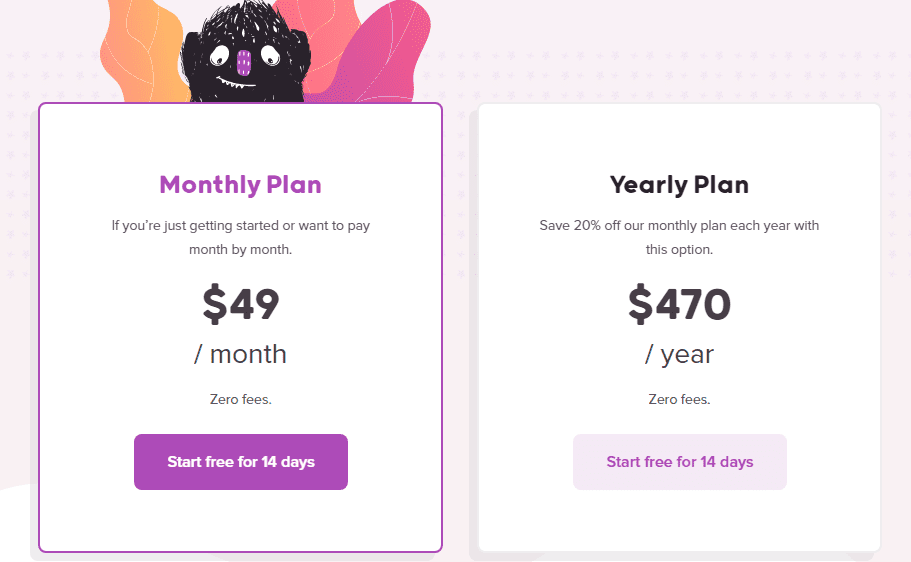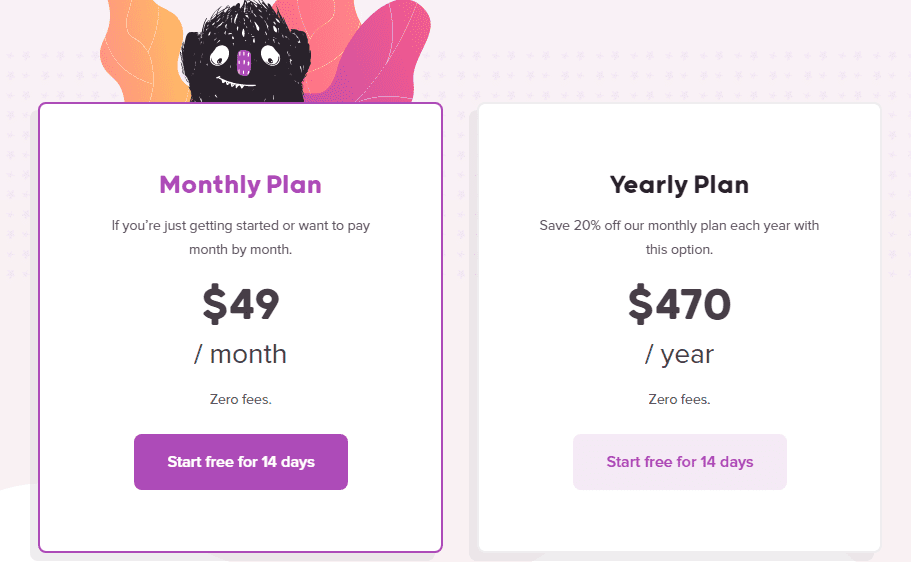 That explains why you are paying much less to use Teachery. Teachery's pricing is also simplified, with a monthly subscription costing $49. If you choose an annual plan, you will get a 20% monthly discount, and pay $470.
However, if you don't need to market your course online, then that should be an issue. Moreover, Teachery offers an option to integrate third party online marketing software.
The top features that make Teachery stand out include ability to create unlimited courses, enroll unlimited students, create unlimited landing pages or sales pages, and adding your custom domain. Teachery also supports custom HTML, email software integration, and lesson drip, course scheduling, among others.
Online Video Course Platform
16. Muvi
Muvi is a white label video content creation platform that allows you to create videos and brand the video player interface.
Muvi includes features such as adding your custom domain, and native apps that work on various video streaming devices and platforms.
If you aren't interested in using platforms such as YouTube, then Muvi is what you need. It offers all the tools you need to monitor your video performance and audience interaction with your content.

You can also use it to manage user subscriptions to your video content, course content, and manage user-generated video content.
With that in mind, you can use it to create your own user-generated video platform. And for that, you have to pay a premium subscription, which starts at $399 per month plus $299 in-app fees,
While Muvi excels in providing a great video content creation platform, it lacks in online marketing features that are included in Vonza. You will have to add third-party marketing tools such as SMS and email marketing software, sales funnels, and forms.
Overall, Muvi is a great online video course platform for businesses.
17. Uscreen
Uscreen is a video content platform that is a leaner version of Muvi, it allows coaches, educators, and other video creators to upload, organize, and monetize their video content.
It also includes video-on-demand service and live stream that you can schedule, complete with a countdown timer overlay.
Uscreen allows you to share videos on brandable mobile apps so that your audience can stream your videos from their mobile devices.
Moreover, you will have the ability to analyze your video performance, and check how users interact with your videos.
You will also be happy to know that Uscreen features online marketing tools such as sales funnels, landing pages, subscription tools, and email marketing software.
However, it limits you to selling only video content, unlike Vonza and the other tools we have reviewed.

When it comes to pricing, Uscreen offers a fair price with the Basic package costing $49 per month. The other plans are Amplify at $399 per month and Enterprise with custom pricing. You have to pay $0.50 per subscriber per month, irrespective of the plan you choose.
Overall, Unscreen stands out as a brandable platform for video content creators only.
Best Online Training Platform
18. AccessAlly
AccessAlly is a WordPress LMS plugin that you can use to create courses, market and sell your courses and other digital products, from your WordPress website. You can also use it to create and monetize course communities.
Some of its outstanding features include conversion-focused order forms, support for PayPal and Stripe payment processors, cross-selling, abandoned cart software, and affiliate tracking. When it comes to digital products and course pricing,
AccessAlly allows you to use recurring product subscriptions, membership subscriptions, and drip course pricing. You can also use this plugin to create upsells, offer promotion coupons, and use them on the course quizzes, lessons, and modules you will have created.
When it comes to pricing, they offer three pricing options. The first plan is the AccessAlly Essentials which costs $82/month, the AccessAlly Pro at $108/month, and AccessAlly In-House Training at 208/month. If you choose a monthly subscription, then your monthly subscription cost will be higher.
Overall, AccessAlly is designed for WordPress course creators, who may not want to migrate to other platforms.
19. Kartra
Kartra markets itself as an all-in-one platform, where you can create, market, and sell your digital products.
Kartra features include online marketing tools, analytical tools, landing pages, forms, and website builders, among others.
You can also use it to create an online community around your digital product. If you are running an agency, you can also use Kartra to manage multiple clients, from a central dashboard. That eliminates the need to log into multiple platforms, each time you want to give them updates.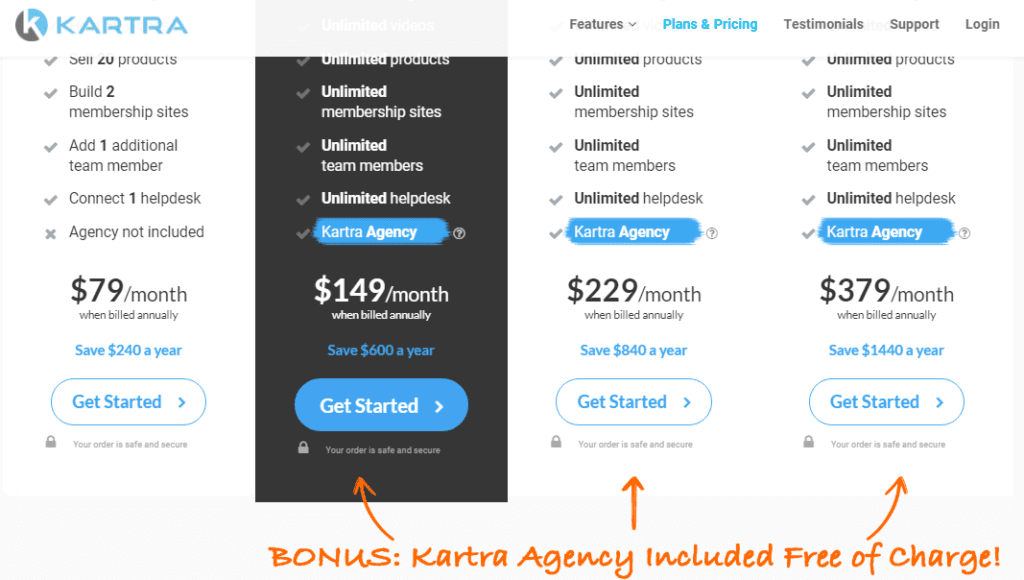 You run a successful online course without investing in online marketing. While Kartra doesn't support SMS marketing, it offers other online marketing tools that you would have to pay for on other online course platforms.
That brings its benefits closer to those that you get with Vonza. However, it doesn't have LMS that you can use to run an online school or university. Still, some online marketers consider it to be a worthy platform for online course creators.
Kartra pricing offers you value for money, with the annual Start plan going $79/month. The silver plan is priced at $149/month, the Gold plan at 229/month, and the Platinum goes for $379/month. Overall, when you take the Kartra annual plans, you save up to 25% of the monthly subscription fees.
Best Online Education Platforms
20. Zenler
Zenler is an online course creation platform dedicated to educators and individuals that want to teach or learn online.
Zenler's top features include course creation, marketing, email automation, page design, online course community, and live classes.
Zenler offers two pricing options. You can choose the $67/month monthly Pro Plan, or the $197/month Premium plan. You get higher feature limits with the Premium plan and get discounts if you choose an annual plan.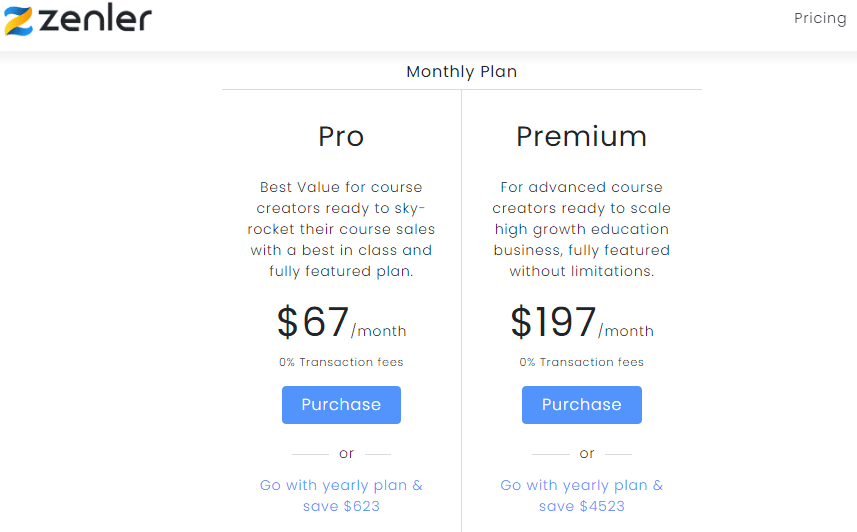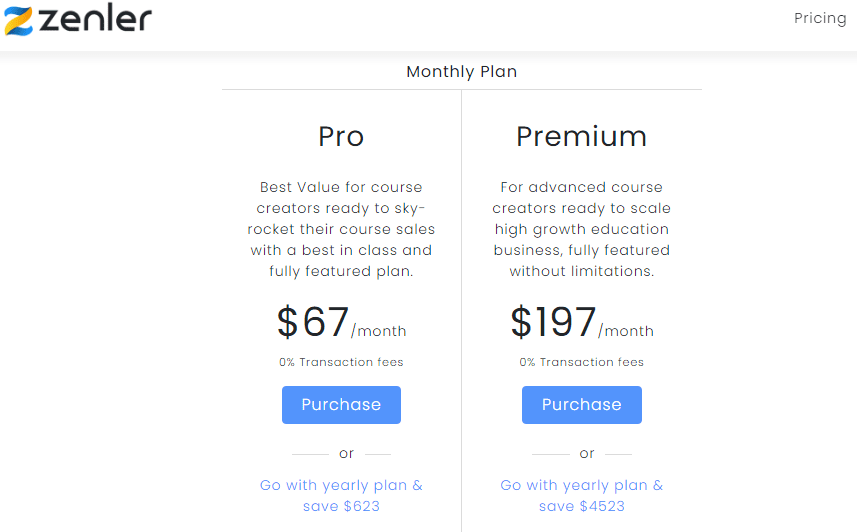 Those six features give you everything you need to create, market, and sell your courses online. You can use them to price your courses any way you want and connect with your students on and off the platform.
You can use the marketing tools to enroll and onboard your students, and guide them through your offers. If you need beautifully designed pages, you can use the collection of page templates, and customize them accordingly.
Students love online learning communities, which you can create with the community feature. You can then monetize these communities in multiple ways, such as ads, and affiliate promotions.
Students can also join your live presentations, which you can schedule using Zenler scheduler. To increase engagement during live classes, you can use whiteboards, virtual backgrounds, built-in chat among other features.
Overall, Zenler is great for individual course creators and small student communities. However, if you want other features such as an online store, University and School LMS, then you should consider Vonza.
21. Udemy
Udemy is among the most popular course creation platforms and you may have heard about it already. It allows educators to create online courses and sell them on the Udemy platform.
That's a unique selling point because they don't allow you to create a custom website like Vonza and some of the other platforms we have mentioned above.
However, they do promote your course for you, which is why some creators like them. If you hate doing online promotions and marketing, then they may be the online course platform you need. Udemy is also a well-known online course platform, which makes it easy for new educators to sell their courses.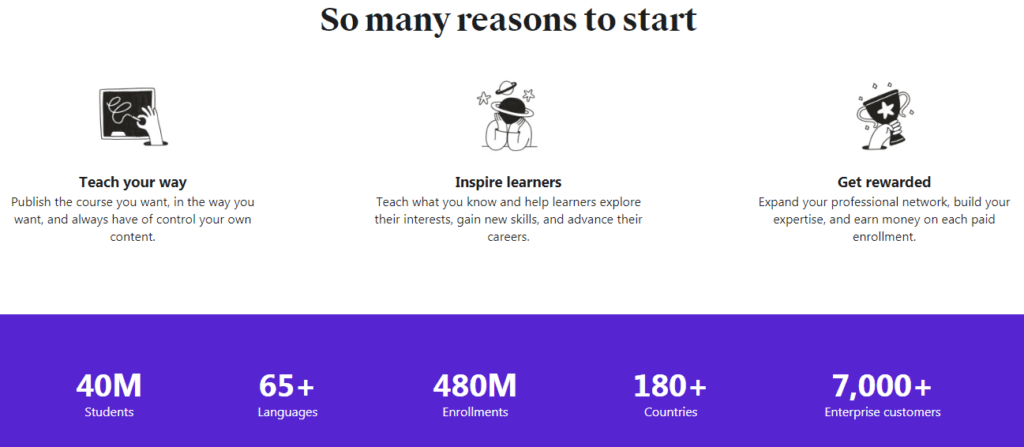 However, if you need a platform where you can promote your courses and keep all your money, then a platform such as Vonza will work best for you. Udemy doesn't also support a brandable LMS, so you can't use it to start and grow your online school.
When it comes to course pricing, Udemy doesn't charge course creators to create courses on their platform.
However, educators can earn as little as 25% of their course's selling prices. If creators choose to sell only to Udemy's organic traffic, then they can earn up to 50% of the course's sales.
With Udemy, you trade your course profits for their free traffic and marketing efforts. However, it is one of the best online learning platforms examples.
22. Skillshare
Skillshare is a marketplace like Udemy, where you focus on offering your skills only. Unlike Vonza, you don't own your platform, and you don't have to do any marketing.
However, you have to share revenue with Skillshare for using their platform and marketing services.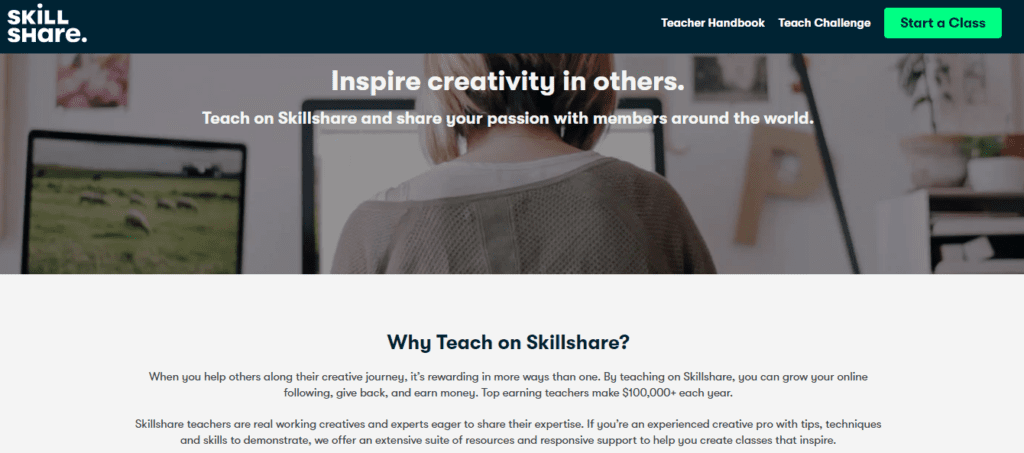 Skillshare works well for teachers that simply want to teach and earn, which is why it is among the best platforms to create online courses. They claim that some of their top teachers earn over $100,000 annually. That's an impressive income for just teaching what you love, and not doing anything else.
However, if you want to make more money, then Vonza may be a better option. You may put in more work, but you get more rewards, and with Vonza, you aren't limited to teaching only. You can also sell digital products, and physical products, and even start your online school.
The Best Platform For Online Course
Vonza should be your number choice when it comes to choosing an All-in-One Online Course Platform.
Online learning is still at its budding stages, so if you get started now, you can make a name for the brand before it is overly saturated.
You can teach people just about anything and earn money by selling course subscriptions, packages, memberships, and even show ads to your audience.
You can also use your platform to list products and services that your students can use to apply your lessons and earn commissions if they buy them.
However, before you get to that point, you need to start by launching your course using an online course platform.
That's what you can do with Udemy-like sites such as Vonza, and you can start with a 30-day free trial today. You don't need a credit card to sign up, all you need is just your contact details, and a determination to earn from your skills.