This article presents 7 Sure Ways you can Make Money Online in 2022.
Many people wake up daily, brush their teeth, and hit the streets in search of money. Well, making money offline is okay. However, nothing beats making money from the comfort of your home.
In our previous articles, we shared 20 side hustles for teachers and steps to turn your passion into income. It is time to reveal sure ways you can Make Money Online.
A Google search on how to make money online returns millions of results. These results include how to make money for teachers, how students can make money, income for writers, side hustles for women, and easy ways to earn dollars.
Although there are numerous results for how to make money online, most of them aren't realistic. Thus, there is a need to share practical ways to make money online.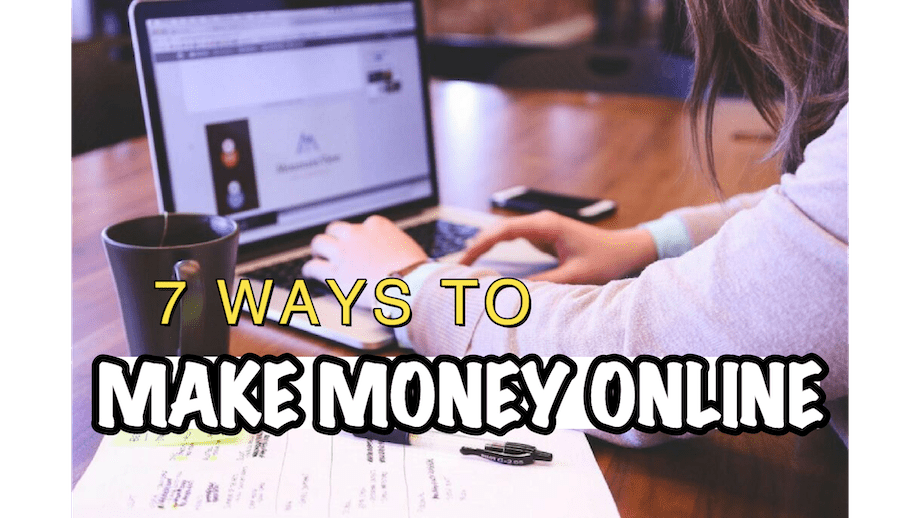 1. Become A YouTuber
YouTube is a video sharing platform where you can watch, upload and share videos. You can access Youtube for free using a Phone, Smart TV, Tablet, and Laptop.
You can't talk about how to make money online for free without mentioning Youtube.
A question comes to mind, How do I make money on YouTube? There are four steps to start making money on YouTube in 2022:
Choose a niche
create a youtube channel
Upload Videos
Monetize your videos
How To Choose YouTube Topic
When it comes to YouTube, niche represents the Topic. Posting on Youtube is termed Vlogging and a person who posts videos on Youtube is referred to as a Vlogger or YouTuber.
You must define your area of interest (niche) before jumping into vlogging.
You may be wondering, what video should I publish on youtube to start making money online? Below are Youtube Topics you should consider before creating a YouTube Channel:
Education – Teaching Mathematics, English, Chemistry, Etc
Education – Guiding People on how to Prepare and Pass Exams
Education – Enlightening people on various topics
Sports – Match highlights and Reviews
Entertainment – Celebrities and Lifestyles
Religion – News and Sermons
Music – Lyrics and Original Music
Fashion and Beauty Youtube Videos
Health and Lifestyle Videos
Food – Various foods and their benefits
Listicles – Rankings and Best of things
Facts about things and people
Business and Finance
Ideas around Movies and TV Shows
Electrical and Electronics Tutorials
Tutorials on Repair and Maintenance
Economics and Commercial activities
Local and International Breaking news
Teach Reviews and Photography
Gaming and Travel Vlog
Short comedy videos
Other things you love to do.
If you've decided on a topic to vlog about, the next step is to choose a name and create a Youtube channel.
Steps to Create a YouTube Channel
Visit YouTube.com or Install YouTube App
Sign in with your Gmail & Password
Click on your Profile picture
Locate "Create Channel"
Enter Channel Name
Fill in your Youtube channel details
Done
After a successful youtube channel creation, the next step is recording and uploading videos.
Do I need a Camera? No. You don't necessarily need a Digital Camera for Youtube. A good smartphone is enough to create, edit and upload beautiful YouTube Videos.
How to Upload Youtube Videos
Steps to Upload YouTube Videos with a Phone:
Open YouTube App
Click on the Plus+ icon
Click on Upload a Video
Choose Video to Upload
Enter your video details
Publish your Video
Done
How to Upload Youtube Videos using a Laptop:
Visit Youtube.com
Login with Gmail and Password
Click on the Plus+ icon
Go to Upload Video
Enter Video Details
Publish your Video
Done
Monetize Your Videos
How do I start earning from my Youtube channel?
The beauty of Youtube is that there are so many ways you can make money. You can set up AdSense for Youtube, engage in affiliate marketing, sell your products and promote your services.
You will be eligible to start displaying Google Ads on your channel after reaching 1,000 views and 4000 watch hours. This is achievable within a few weeks.
2. Freelancing
A freelancer is someone who isn't attached to a business, brand, or company. Freelancing is a type of self-employment.
Freelancers work for brands on a contract basis. This is one of the easiest ways to make money online.
You can start by writing articles for big blogs and organizations remotely. You can help people write wonderful CVs and Final Year Projects.
Write and Get Paid
No money is required to start a writing job. All you need is your gadget and brain. There are many platforms out there that need writers urgently. You can fill in this gap.
The beauty of writing is that you can learn and improve your skills with little or no starting capital.
Do you want to get paid for writing? The following are steps required to start writing as a source of income…
Improve your writing skills by writing regularly
Improve your skill by learning regularly
Create many rich articles as a sample
Learn about various niches
Contact top bloggers and brands for writing jobs
Show individuals and brands your sample write-ups
Advertise your writing work on Fiver, Twitter and other platforms
There are a lot of ways you can get started with freelance writing; whether you reach out to publications or websites directly or build a portfolio and wait for customers to come to you.
Tips for Freelancing
Define your expertise
Find a profitable area
Reach out to brands with your proposals
Creat Examples of what you can deliver on blogs
Set strategic prices

Feel free to request referrals

Improve on yourself regularly
Identify your Clients/Customer
What If I Can't Write?
Freelancing isn't restricted to writing. There are many freelancing jobs in the United States and around the world that don't require writing articles.
The following are freelance job skills in very high demand:
Writing
Search Engine Optimization (SEO)
Accounting and Bookkeeping
Graphic Design
App Development
Photography
Video Creation
Video Editing
Social Media Manager
Website Design
MS Word & Excel Skills.
Recommended: Small business management guide
3. Start a WhatsApp TV
WhatsApp is a very powerful tool. It kills some people's time but puts food on the table for others.
People making a whole lot of money on Whatsapps and you may be interested in making WhatsApp money.
Some Whatsapp users save lots of important contacts on their phones with a marketing intent. This is referred to as WhatsApp TV in many countries.
With 3,000+ Whatsapp status views, you can sell a lot of products, render services and accept paid posts.
There are a lot of people who make ends meet with Whatsapp TV. How to make money on Whatsapp in 2022? Continue reading…
Steps To Make Money on WhatsApp
Exchange contacts when you meet important people

Showcase what you are good at on your WhatsApp status

Give meaningful Whatsapp tutorials for free
Create free WhatsApp groups if convenient or necessary
Showcase your views, Reach out to brands for marketing
Become an affiliate; Vonza offers up to 30% commission per referral.
Let 60% of your posts be useful and free while the other 40% should be promotional.
Now, don't feel you don't have something that people are willing to pay for.
4. Start Blogging
A blog is a discussion or information-based website updated regularly. Thousands of blogs are created daily across different topics (niches).
Techcrunch, Shoutmeloud, WpBegginer, and thousands of other blogs earn the owners millions of dollars. These persons simply choose a topic and start posting valuable content.
You too can start a blog and make money online.
Apart from the fact that blogging gives you the opportunity to make dollars, It is a way to make money even while you sleep.
How do I start a blog and start making money?
It is easy to become a blogger. The good news is that you don't need programming knowledge or an understanding of web design before you can run a blog. Get started with blogging using Vonza or WordPress.
Choose a Niche
Create a Blog or Hire an Expert
Start Creating Useful Content
How To Make Money Blogging
There are many ways to make money blogging. Take a look at the most common ways people make money as bloggers:
Google Adsense
Affiliate Marketing
Writing on Medium
Selling Products
Sponsored Posts
Google AdSense
Google AdSense is a program by Google that helps you make money from your blog. You can apply for Google Adsense after a month of blogging. You will be given an Adsense code to place on your blog.
Once approved by AdSense, Google displays ads on your blog pages. You simply earn as viewers see and click on these Google Ads.
Affiliate Marketing
You can make a huge amount of money via affiliate marketing. This is especially easy when you have a blog. You simply create affiliate links and posts around the products or services you are marketing. Affiliate marketing is fully explained in number 7.
Writing Articles On Medium
Medium is a legit Website where you can Make Money Online. You can make money for sure by writing articles on Medium. Medium is very genuine; zero scams.
What should I write about on medium? Medium.com accepts articles on a wide range of topics. It all depends on the niche you are interested in.
How do I Post articles on Medium?
You must become a member of Medium before you can start making money with it. Visit medium.com and click on get started to sign up. You can register with Gmail or Facebook account.
Rules For Articles Approval On Medium
Every content gets reviewed as a result of writers spamming and posting low-quality articles on Medium. You must follow these rules:
Post your own articles (Original)
Use your own image (Original)
If images aren't original, obtain permission
Don't advertise yourself or your products
Create detailed articles.
5. Blogs And Web Design
Not everyone will write articles. A lot of individuals and businesses are in need of websites, there should be people on the ground to create blogs and websites.
You can simply take the role of making money only line by creating blogs and websites.
There are many factors to consider before going deep into Web design.
Whether to go deep into coding or
Creating websites with coding knowledge
You can create websites from scratch with HTML, CSS, JavaScript, and PHP knowledge. On the other hand, you don't need coding to create websites with WordPress or Joomla.
Easily build a blog or website to help your business grow and serve your customers. Start today with Vonza's free powerful website builder.
You can optimize your blog to appear on Google and other search engines as people search for topics in your this. This is referred to as search engine optimization (SEO). SEO simply involves creating meaningful articles.
You may need a platform to create and sell courses online. Vonza Online Course platform will help optimize your course platform to cause search engines to discover you.
Vonza is a powerful platform to create and sell your online courses without stress.
6. Affiliate Marketing
Take a careful look at the example below…
Company A sells refrigerators. John on the other hand has many followers who may need refrigerators. Affiliate Marketing is when John refers his followers to buy from Company A and in return gets a commission for every item bought by the customers referred.
There are millions of brands that accept affiliate marketers. Vonza is an example of a brand that offers affiliate services.
Promote Vonza and get paid every month. Earn monthly residual income by joining the Vonza affiliate program. It's free to join and we pay you 30% recurring commissions with a 60-day cookie.
7. Sell Courses Online
Creating and selling courses online is a good way to make money online as a teacher or student.
Earlier, we mentioned YouTube as a sure way to make money online. However, everyone expects to watch videos for free on youtube. As a result of this, you may want to go with a good online course platform.
We have Teachable, Vonza, and other beautiful online courses platform. You may want to read how Vonza compares with other platforms for online courses:
Hot Cake Features of Vonza Online Course
Fastest course Builder.
Easily create, market, and sell your online courses.
Add video, image, text, audio, Youtube, Vimeo, and PDF files.
Import your content from other platforms.
All-in-One platform to create and sell courses
There are many genuine ways to make money online this year. The top 7 sure ways to make money online in 2022 are vlogging, blogging, freelancing, WhatsApp tv, web design, affiliate marketing, and selling online.