Sales Funnel refer to the several stages involved from the time a customer comes across your business, to when he/she checks out after purchasing. You can build an effective Sales Funnel with Vonza for your 2022 Marketing.
Studying the behaviors of your prospective clients each step of the way, helps you organize your sales page accordingly.
Vonza Online Marketing Tools allow you to build an awesome sales funnel with just a few clicks of the mouse.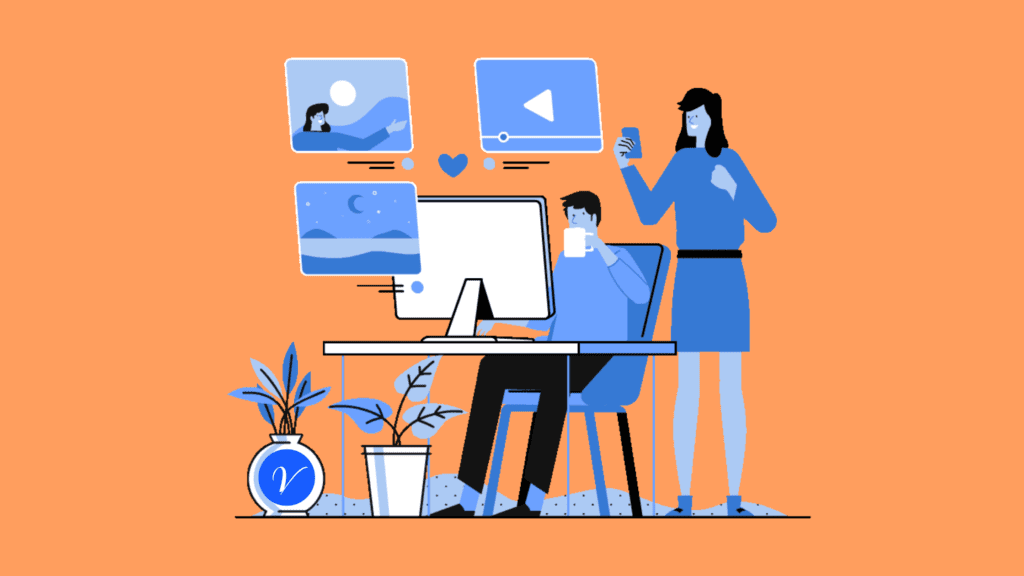 What is a Sales Funnel?
A sales funnel (Also known as a digital marketing funnel or purchase funnel) refers to the several stages involved in the path an individual takes from being an admirer to a paying customer.
Unlike a real-world funnel, not all individuals who enter the top go out through the bottom of the funnel – most prospects will drop out before making a purchase.
To acquire leads and generate more sales from your blog, you need to have a well-plotted and optimized marketing funnel.
Why is a Sales Funnel Important?
A well-designed sales funnel is an important trick of the trade used to boost business growth in a methodical approach.
It is vital to study and decipher what your prospects think and act in the process of buying. This way, you will determine how best to approach them.
Your business will thrive if you are capable of paying attention to the ever-changing needs of the purchaser and the business environment.
Building an efficient sales funnel is crucial for the expansion of your business in the following ways:
1. Deliver The Appropriate Message at Each Stage
From the moment a potential customer becomes aware of your product to when he or she gains interest and buys, a sales funnel allows you to convey a suitable message at each stage.
This is because a marketing funnel enables you to peek over your client's shoulder across every session or domain.
When prospective customer learns about your business and becomes interested after evaluating their choices, it is crucial to deliver the appropriate message to them. You don't want to piss off interested prospects by filling them with unrelated information.
2. Converts Cold Leads to Paying Clients
A sales funnel is an authentic strategy used to turn cold leads into buying customers. By making sense of what potential customers think, you can design an alluring sales funnel strategy, through which they can be convinced to buy a certain product or service.
Without one, prospects will drop magnanimously before making a purchase.
3. Builds Strong Relationships and New Leads
Most marketing leads fail to convert into customers because businesses do not have well-planned strategies to build stout relationships and communicate better.
A sales funnel is a systematic way of building concrete relations with customers. Unlike hope marketing, building a seamless sales funnel is crucial in maintaining compact relations with customers who decidedly are likely to refer other friends or return for more.
A sales process enables a merchant to know who is going to be at the bottom, middle, or top of the funnel. Subsequently, the prospective clients are fed with information that's useful to them.
Since proper communication is key in involvement, a sales funnel expressively helps increase conversion rates.
4. Locate Exactly Where You are Losing Leads
Vonza allows you to build a sales funnel that shows your site's bottlenecks. You can filter your funnels by different variations of your audiences such as location and device.
With a funnel report, you can pinpoint where and why you lose prospects, and you can easily seal the holes through which you lose prospects.
The Sales Funnel – How it Works
A sales funnel has a top, middle, and bottom. Like any other funnel, a marketing funnel is widest at the top and narrowest at the bottom.
Prospects enter the top of the funnel when seeking a solution to a problem they are facing. And they keep dropping as they move from one stage to the next.
The logic is on maintaining prospects throughout the funnel to get more conversions. To understand better how a sales funnel works, let us look at the stages involved.
The 4 Stages of a Sales Funnel
Typical sales funnels have four stages. These phases generally represent the different mindsets that a prospect goes through when becoming a customer. Each stage whittles down unqualified leads and the most prospective shoppers progress towards the bottom.
Stage 1: Awareness
Also known as the discovery phase, this is when a potential target realizes that he/she has a challenge.
However, this ideal customer probably has a lot of questions about how your business will offer the most sublime solution for his/her problem.
Having content that educates about the challenge that your target customers are facing is key in getting as much traffic into your funnel as possible.
Your target clients will come across such information through search engine results, social media, or offline sessions.
At the awareness stage, the target clients' problems should align with what you aim to offer. For example, if you are a fitness coach, you can address why your prospects lack quality sleep or experience problems in their muscles and joints.
Your aim could, however, be to acquire more clients to subscribe to your workout tutorials or attend your gym training sessions.
The most important reason for the awareness stage is to push your cold leads into the second stage of the funnel.
Stage 2: Interest
In the interest phase of a sales funnel, prospects are not concerned with assessing the providers of the solution but rather the type of solution that best fits them. This is where your potential customers understand their problems well.
They also know about your business and are interested in learning more about your product or service.
For example, they might be knowledgeable about how workouts help improve sleep and reduce pains in the back and joints, thanks to your educational content.
They are fascinated by the idea of working out but aren't sure whether it is your fitness program or medical help that is better for them. They are interested, but still weighing in.
Stage 3: Decision
This phase forms part of the bottom of the funnel and your potential customers are ready to make a purchase. However, they are conversant with rival businesses and are considering the option that is best for them.
They know of their problems and are ready to buy the best solution. They will dig deep into your packaging options and pricing and will ask merchant-driven questions. In this stage, you showcase your best offers to beat competitor businesses.
To set your brand apart, amaze your prospective clients with alluring discounts, gifts, and bonuses. Your potential customers are ready to pay and you don't want to lose them to rival businesses. To reduce the dropout rate in this stage, ensure your sales offers are unrivaled.
Stage 4: Action
This is the last phase of the sales funnel. Qualified leads negotiate and if you reach an understanding, you can transact. If not, don't let your efforts go to waste; you can create nurture campaigns to engage those leads unless they opt-out of your campaign.
Example of an Effective Marketing Funnel
To understand in detail how a sales funnel works, here is an essential example:
Let's assume a company that deals in baby care sunscreens targets parents with 6-month-old babies and below.
The company creates a splendid landing page that describes how direct sunlight is harmful to babies.
To drive up traffic, it runs an awesome Facebook, Instagram, or Twitter Ad. That increases lead generation to the brand's landing page. From the page, ideal customers understand the problems they face.
The seller again sends out resourceful information on how their baby care sunscreen can help solve the problems.
When the audience identifies how the product will help them solve their problem, interested prospects move through the funnel.
The merchant goes on and calls the page visitors to purchase its products, sending them attractive offers, for example, free delivery and 20% off. This is at the bottom of the funnel.
It doesn't become the end when clients complete their purchases – they keep in touch.
By engaging their customers, the company boosts its growth when they tell them how more of its products can help solve other problems that they face.
How to Build a Sales Funnel Fast from Scratch
Did you know that you can easily build a sales funnel with Vonza? Funnel building is the creation of a sales funnel that matches how customers behave when purchasing from a brand.
If you want to take your business to the next breakthrough with a first-rate sales funnel, the following steps will guide you:
Step 1: Analyze Your Audience's Behavior
What is your target market? Research your target audience using statistical data when creating buyer personas for your business.
When setting up an illustrious sales funnel, it is crucial to identify the behaviors associated with your audience.
From the customers' point of view, draw out the most common decision points when shopping for things.
Write the matching behaviors down to come up with the stages of your sales funnel. These stages will determine the type of sales funnel that best suits your business.
Step 2: Capture Your Audience's Attention
Having scrutinized your target market meticulously, the next step is to get their attention.
You need to find a way of connecting with as many of them as possible, preferably by using social media ads. They should be brief and to the point, with a link to your landing page.
Step 3: Build a Landing Page
With a landing page, you can channel visitors through your marketing funnel. Employ scrutiny in marketing skills to drive up traffic to your page and significantly improve the number of conversions.
A Vonza customer support agent can assist you to formulate a customized strategy and guide you through the entire process.
Setting up an integrated landing page on Vonza requires just a few clicks of the mouse. Yes, it is that simple!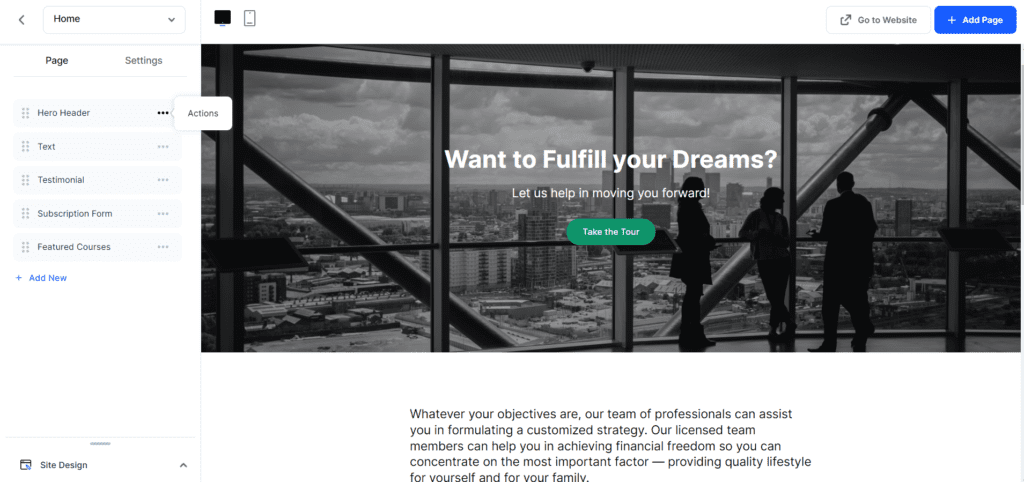 Step 4: Create an Email Drip Campaign
On your landing page, include a form that will capture the email addresses of your audience. You should acquire them with the promise of something valuable in exchange.
With them, you can send appropriate messages as they break from one stage to the next.
Make sure they are of value to them so that they don't unsubscribe along the way. Vonza allows you to run beautifully-designed email marketing campaigns to grow your online business.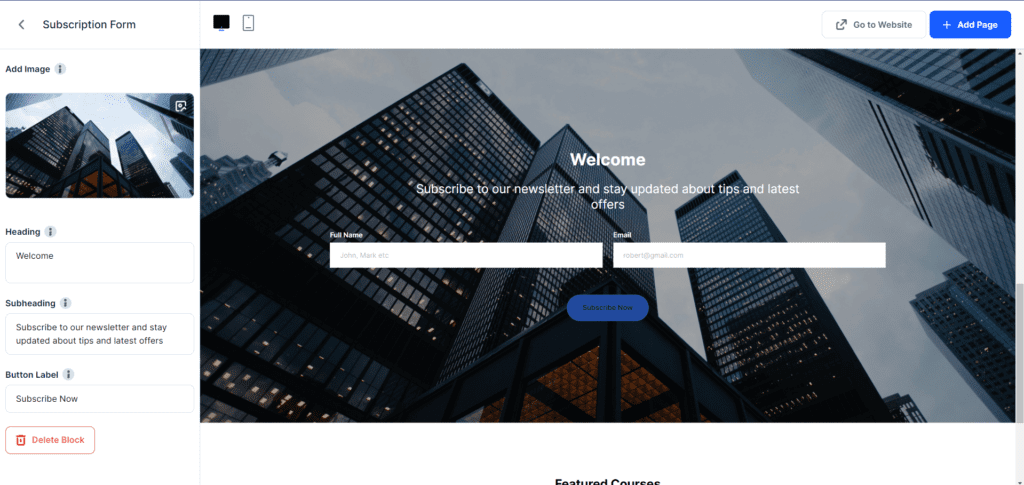 Step 5: Keep in Touch
Many companies lose out on converting bottom-of-the-funnel leads because they don't keep in touch. Whether your prospects saw it through the sales funnel or not, it is vital to stay top of mind.
Nurture and maintain a strong relationship with new customers, and build a new series to retain customers who saw it through the Action Stage.
Why You Need to Optimize Your Sales Funnel
Prospects are most likely to drop out of the marketing funnel if it is not optimized. None is perfect but with a well-optimized funnel lies the opportunity to reduce prospects who drop out and to nurture those who are not yet ready to purchase.
How to Optimize Your Sales Funnel
The better your sales funnel, the more sales you will make. It hurts when a prospective client drops out of the funnel after several weeks of persuasion.
If your sales funnel isn't well optimized, it means it has a lot of holes and cannot hold prospects to the bottom.
Easily fixable holes in a sales funnel include ignored follow-ups, missed appointments, inappropriate messaging, or sticky notes.
To stay at the top of your business' key data, you should set up a formidable and well-optimized purchase funnel. Here are 6 ways you can optimize your sales funnel and influence more prospects:
1: Understand your audience
Knowing your audience better means having an expressive understanding of how to market properly and convert them into paying customers.
When you have the wrong impression of your buyer personas, all your prospects will certainly drop from the funnel.
For example, if your target audience is individuals who experience problems with quality sleep, you should exclusively focus on that problem.
2: Create an educational content
Prospects are 131% more likely to buy from you if you create informative educational content for them. You can even create an online school to give your customers a better learning experience.
Great educational content positions you as:
An expert in your field
A trusted brand
A helpful merchant
Instead of pushing your products directly, capture the needs of your target clients and advertise your business in a solution-oriented article or an exclusive How-To video.
3: Capture the email addresses of your prospects
You should build strong relations with your prospects to nurture them through your funnel.
The only way a prospect will be willing to share his/her email address is when they see the potential of a relationship with your business and are interested in what you offer.
Your content should be top-notch and helpful. Creating amazing content at the top of the funnel is key when offering your page visitors the chance to sign up for your email list.
You just need to be clear on what they should expect when they sign up.
If the sign-up rate is too low, consider offering your best content to users who subscribe first. This can easily be done using custom landing pages that display the content you are offering clearly.
With Vonza, you can build custom online forms, quizzes, and surveys to collect data and generate leads for your business.
4: Customer testimonials
Trust is crucial in business. Most customers factor reviews into their purchase decisions.
If you can present trust and social proof on your sales funnel, you can ultimately make a positive impact on your prospects' buying decisions.
Social proofs show potential customers evidence of your business success. Customer reviews, video testimonials, awards, and customer count also go a long way in edging out competition by building trust and increasing desire.
5. Put up a strong and clear CTA (Call-To-Action)
As a lead moves closer to the funnel bottom, marketers need to be more scrutinous to the common pitfalls to realize maximum conversions.
After putting in all the hard work in getting prospects to the bottom of the funnel, do not make the mistake of leaving them stranded.
Indicate to them what to do next with a powerful and alluring Call-To-Action. Since they are in the Decision Stage, use a CTA copy that is relevant to what you are offering, such as:
Go premium
Book now
Start your free trial
Secure your spot
Buy 'here!'
Make your CTA as enticingly visible as possible. If your CTA is a button, use a button color that contrasts the pages and position it in an easily visible spot. The CTA being the most crucial part of your sales funnel, it is essential to make it very noticeable.
6. Be ready to help out
At the Action Stage of the funnel, your potential customer probably has a question or two. And while prospects typically want instant replies, are you readily on-hand to help out?
Vonza easily manages your communication with potential clients by engaging them in quick responses. If you are available for your audience at this stage, you will undoubtedly close more deals.
Conclusion
Conversions are achieved when a lead does something you wanted them to, such as signing up, purchasing a product, or filling out a form. A sales funnel helps to track the steps followed to achieve a conversion.
Building a sales funnel with Vonza helps you track the steps followed to achieve a conversion. With multiple sales funnel templates to choose from, Vonza's online marketing tools give you what you need to make your conversion rates soar. Start your 30-day free trial now!