One of the best ways to grow your online sales, increase your market share, and enjoy consistent business growth, is to invest in online marketing tools. Online marketing software gives your business much-needed online exposure and connects its customers 24/7.
However, knowing which marketing tool is the right one can be a challenge. With that in mind, here are the best 20 online marketing tools that help you grow your online sales and customer base and increase marketing operation efficiencies.
What are the Best Scheduling Tools for Businesses?
As a business, you need an efficient way to schedule meetings with customers and business partners, as you work to access the e-retail market that is valued at over $4.1 trillion, as of 2021.
If you are looking for a reliable and cost-efficient appointment scheduling software, you can consider the following:
Vonza Scheduling
You can book meetings with clients or make it easy for them to book appointments with you, using Vonza Scheduling. Vonza Scheduling eliminates the need for back-and-forth emails, or double bookings and the need for meeting cancellations.
It only takes a few seconds for you to book meetings, because it automatically shows your availability, as well as those of other users. Moreover, it is part of the 14-in-1 Vonza online marketing platform.
That eliminates the need to pay for and maintain online marketing tools.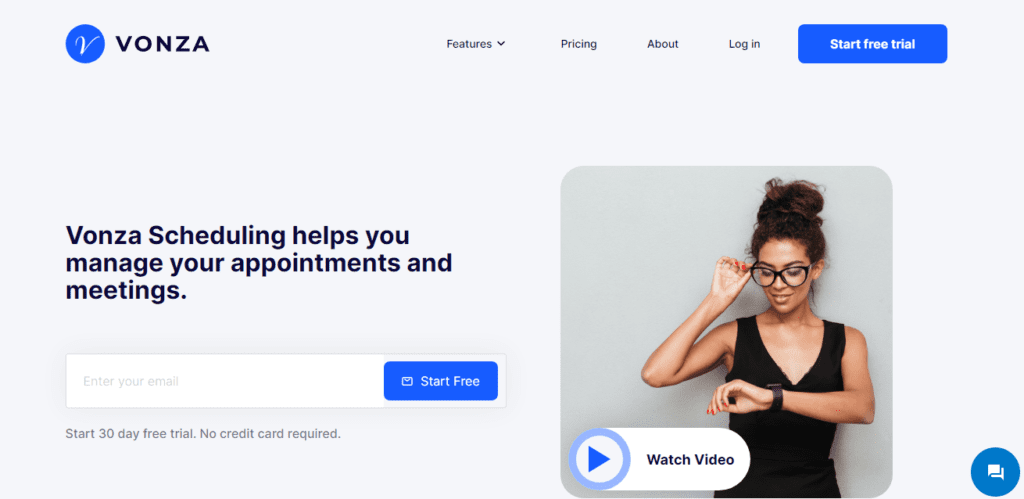 Calendly
Like Vonza Scheduling, Calendly is a meeting scheduling tool for making an appointment. It eliminates the need to use phone tags or send a chain of emails before you settle on a date and time that works for all parties.
Calendly also sends meeting reminders and thank you notes, which makes it more of a digital assistant. Moreover, the recipient doesn't need to be using Calendly for it to work. You can send them a Calendly link, and they will be able to set up a meeting.
You can use it to schedule meetings, events, and appointments. Calendly is a freemium app, which makes it suitable for businesses and private use.
x.ai
x.ai is a scheduling app that can help you to set up meetings with clients and business partners via email. It takes the host's meeting details and then emails guests requesting them to confirm their attendance.
The emails the guests get have links with times slots indicating the host's availability.
Once the guest picks a date and confirms their attendance, you will get an email with details of the confirmed meeting. x.ai is recommended for use with guests who prefer to make appointments via email.
This scheduling tool is a freemium tool, which makes it suitable for SMEs and personal use.
Digital Marketing Platforms for Scheduling Meetings
Google Calendar
Google Calendar is a Google scheduling tool that most people can access, and that is its main advantage. It allows users to view each other's availability, which makes it easy to schedule meetings and events and get notifications on upcoming scheduled events.
However, unlike Vonza scheduling, Google Calendar isn't integrated with other useful marketing tools, such as email marketing, sales funnel, and an online store. In that regard, Google Calendar is among the most notable digital marketing platforms.
Doodle Scheduling
Doodle Scheduling is another tool you can use to make online appointments, and events, or even create a basic poll. The tool allows you to add notes about the scheduled event, and possible dates of attendance. Currently, Doodle has over 10 million users.
You can then send the Doodle to your participants for them to choose the dates they are available. The participants can vote on their availability based on the Doodle schedule you sent them. You can then close the poll, and schedule a meeting on the date with the most votes.
The Best Email Marketing for SMEs
For every $1 you spend on email marketing, you get over $38 in return on investment (ROI). However, that is only possible if you invest in the best email marketing software. Without that in mind, here are the best email marketing software tools.
Vonza Email Marketing
Vonza Email Marketing tool is one of the fastest-growing email-marketing tools. It makes it easy to create, format, and segment your emails. Its email templates are designed to give your emails a custom and professional look, thanks to their mobile-first design.
Moreover, Vonza Email marketing software is part of the Vonza 14-in-1 platform. Therefore, you not only save thousands of dollars each year, but you also access all your online marketing tools from one dashboard and platform.
Whether you are an industry freelancer or SME, the Vonza email marketing tool can help you connect with customers, and grow your profits consistently.
Mailchimp
Mailchimp is a popular all-in-one marketing platform that is popular as an email marketing solution. To connect businesses with customers, it puts an emphasis on best email practices, beautiful designs, and data analysis.
It is among the few online marketing tools that compare well with the Vonza 10-in-1 platform. It is a freemium tool, which is why both individuals and SMEs can use it for email marketing.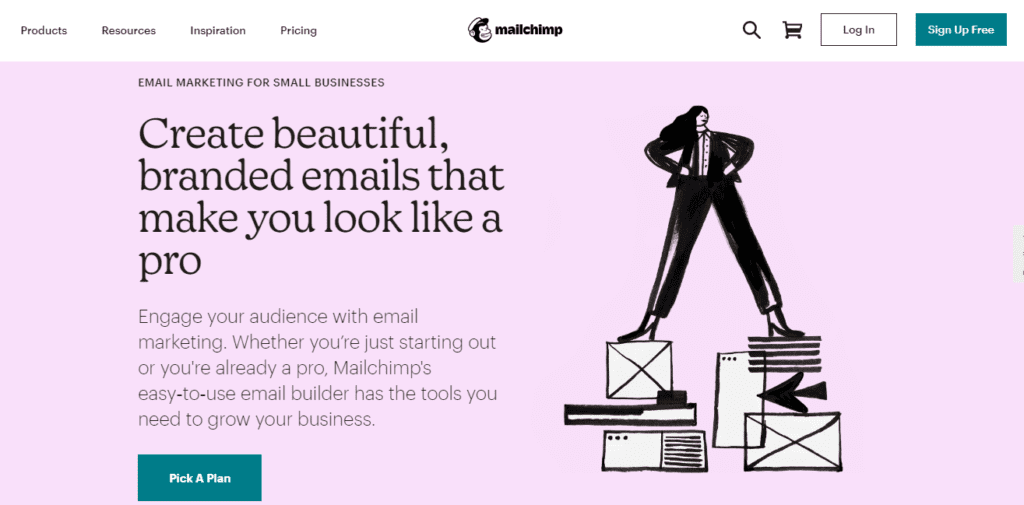 Online Marketing Platforms For Running Email Campaigns
Constant Contact
Constant Contact is a freemium email marketing tool designed for individuals and SMEs. It can help you to launch and monitor your email campaign, using data analysis tools. Its other notable features include a website builder, an online store and a social media tool.
Overall, it is among the best online marketing platforms, though it may not be the best Vonza alternative.
Aweber
Aweber excels in helping businesses to create email lists along with the associated data for each contact. The data can be used to create automated responses, using Aweber's autoresponder feature.
You can also use it to design newsletters to increase your conversion rates, and grow your customer base. Aweber is a freemium email marketing tool, which makes it suitable for SMEs and individual users.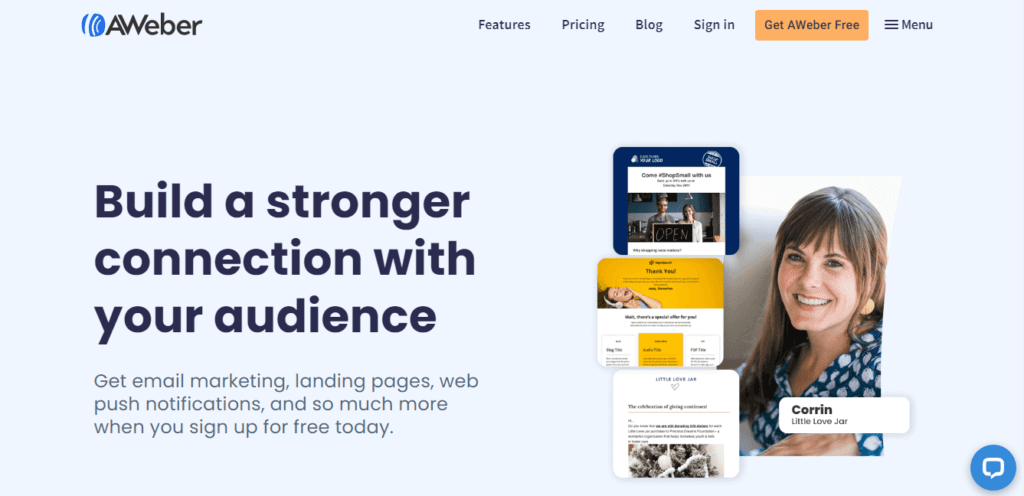 What is the Best Sales Funnel software?
A sales funnel is among the most important tools used in online marketing. You can use it to promote your business, gather leads, and follow up on potential customers. Overall, you can use a sales funnel to grow your customer base and online sales.
Here are some of the best sales funnels.
Vonza Funnels
With Vonza Funnels, you can create a continuous sales cycle for your leads and customers to follow. The Vonza sales funnel comes with multiple templates that you can customize to fit your brand, and it works with digital and physical products.
Its most outstanding features include being part of the Vonza 14-in-1 platform, easy automation, and increased conversion rates. We recommend it for lead generation and sales growth.
GetResponse
GetResponse is designed to help you build a subscriber list, send video emails, and newsletters, and do follow-up campaigns. It is a freemium sales funnel but isn't a 14-in-1 tool like Vonza. You may like GetResponse as a funnel for growing sales for SMEs.
Overall, if all you want is a simple email marketing app to automate your email campaigns, then you can consider GetResponse. Otherwise, if you are looking for a more comprehensive online marketing tool, then Vonza is a better option.
Digital Marketing Tools for Creating Sales Funnels
HubSpot
The HubSpot sales funnel is designed to make it easy to convert leads into sales, and to create a sales funnel. It has a drag-and-drop design, similar to what you get with Vonza funnels. In that regard, you can launch a HubSpot sales funnel within minutes.
HubSpot sales funnel, works for individuals as well as SMEs. Although it is available as part of the HubSpot online marketing tools, you pay for it separately. That is unlike Vonza Funnels which is part of the 10-in-1 platform.
ClickFunnels
You can use ClickFunnels to create and automate an entire sales funnel journey. Specialized software is best known for use as a sales funnel. It features landing pages, email software, data and analysis software.
However, it does not include features similar to those you get with Vonza, which makes it among the best digital marketing tools. For instance, it does not come with a course creator, online shop, or an SMS marketing feature. Like Vonza, it comes with a 30-day free trial.
The Best Website Builders for Businesses
You need a professional-looking website to help you with your online marketing efforts. However, you also don't want to spend weeks or months trying to create your website. The following website builders can help you create a website within minutes.
Vonza Website Builder
Vonza website builder can help you to launch your website within minutes. The builder included building blocks and elements, which you can drag and drop to create your main design. You can then customize your design to create a professional-looking website.
You can also connect a custom domain, or use a subdomain. Vonza website builder stands out as it integrates a sales funnel, email marketing software, and scheduling tool. If you need an all-in-one online website builder, consider using a website builder.
Other Types of Digital Marketing Tools for Creating Websites
WordPress
WordPress is among the most popular website builders. Although it is free to create a website, you need to use plugins to access features such as email marketing and sales funnels.
Moreover, you have to use plugins to make a professional website, to run an online marketing campaign.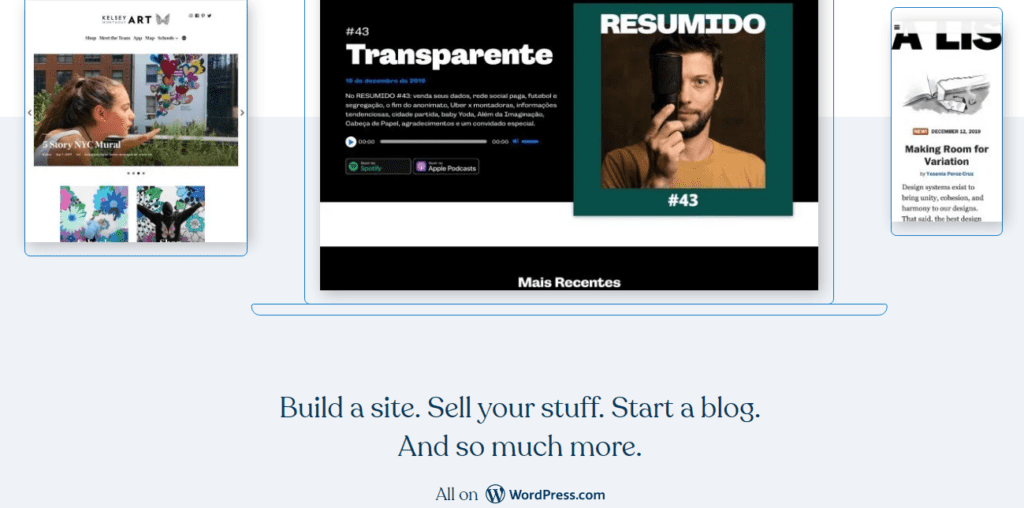 Wix
Like WordPress, Wix allows you to create an online website, but with more functionalities. However, it is not a free solution. Instead, you have to pay for one of their packages to use a custom domain.
Wix also features other types of digital marketing tools such as event trackers to help you stay on top of your marketing campaigns. And while it isn't a better alternative to Vonza, it offers basic features you need to launch an online marketing campaign.
SquareSpace
You can create websites with SquareSpace with features such as an e-commerce store or a community platform. However, you may need a developer to take advantage of all SquareSpace features.
Otherwise, you may end up spending more time building your business website, instead of marketing it. In that regard, Vonza website builder is a better online marketing solution compared to SquareSpace.
What is the Best Online Store Builder?
You need an online store to successfully market your e-commerce business, and make sales online. However, it used to be that you had to code your online store, or pay someone to code it for you. Fortunately, you can create an online store within minutes, using an online store builder.
Vonze Online Store Builder
You can create and market an online shop with Vonza online store, which is part of the Vonza 10-in-1 platform. It allows you to add your digital or physical products, tracks sales, receive payments, and ship your products.
The store builder is integrated in the website builder, which makes it easy to run your blog and store simultaneously. Because of its simple design, it makes it easy to launch your online store within minutes, and instead of spending weeks and months, trying to perfect your store.
Shopify
Shopify is best known as a solution for launching a dropshipping business. It includes an online store builder, an email marketing solution, among other marketing features.
Its most outstanding features is you can use it to host your ecommerce business, market it online, and use it to receive online payments from your customers. However, you can get those same features and many others on Vonza.
However, Shopify doesn't include SMS marketing among other notable Vonza features.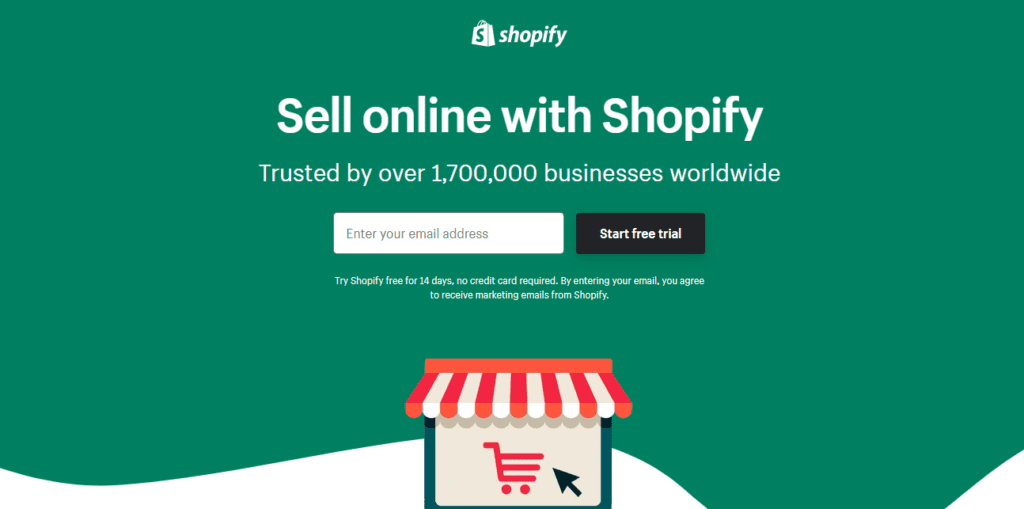 Wix
While Wix is popular for creating personal websites, you can use it to create an online store, and start marketing your products online. You will be happy to know it offers numerous templates that you can customize to create a professional-looking store.
However, it lacks other features such as SMS marketing, or an online course creator, which you can access with Vonza.
Conclusion – Best Online Marketing Tools
You need to market your products continuously, even when your product is the best in the industry. That helps you to maintain your competitive edge, and grow your customer bases as the markets grow.
However, it can be expensive if you have to invest in multiple online marketing tools. And even when you have a budget for multiple marketing tools, you still have to use them each day. That can quickly become hectic if you have to access them from multiple platforms.
It's with that in mind that the best online marketing tools such as Vonza 14-in-1 platform come in handy for online marketers. You can sign up for a 30-day free trial on Vonza, and start marketing your business online.