Kajabi is an all-in-one business platform that provides what you need to have a successful online business. Are you looking for the best Free Kajabi Alternative? Try Vonza.
Are you a course creator or a startup tired of juggling multiple tools to manage your online courses and business? Or you're simply looking for the best alternative to Kajabi? Then you are at the right place and at the right time.
Where Kajabi offers some handy tools for course creation and sales funnel, it lacks certain features like a customized dashboard, sales funnel, school management system software, and more. On top of that, the tool is quite expensive for most entrepreneurs, course creators, and small businesses.
However, there is one alternative that offers all features of Kajabi along with 18+ other unique features so you get a complete business management platform- Vonza. It's an inexpensive and simple to use tool for all your business needs.
Vonza is platform that provides you with a complete business management solution without costing you the earth.
Let's dive deeper into Vonza vs Kajabi to help you decide why Vonza is a better option.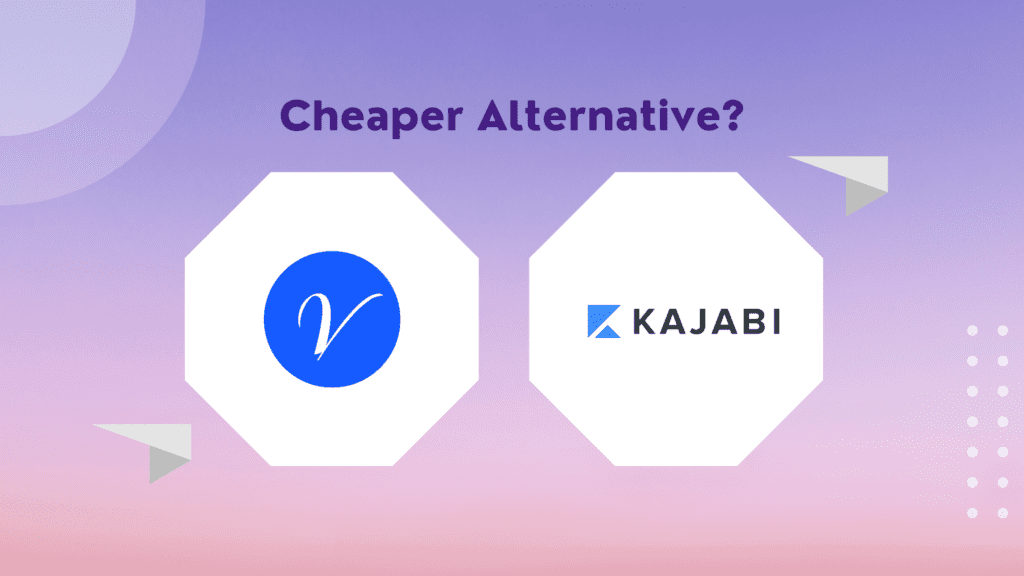 The Best Free Kajabi Alternative- Vonza
Vonza is a fast-growing platform created to help course creators and business owners manage their online operations smoothly.
It is an all-in-one online platform for creating and selling online courses, products, funnels, memberships, websites, LMS, and more.
By combining features of around 16+ complicated tools such as Kajabi, Shopify, ClickFunnels, Kartra, and more, Vonza offers a one-stop solution for all your business management needs.
Customers of Vonza range from small business owners and course creators to entrepreneurs, marketers, and more.
Vonza as Kajabi Alternative in 2023
Let's have a look at some of the features that make Vonza the best alternative to Kajabi:
1. Vonza is Inexpensive yet More Diverse
Kajabi offers a free trial for just 14-days. After the trial period is over, you'll have to pay for its plans which range from $149/month to $400/month to use its features. Kajabi's basic plan of $149 is limited to a few features such as 3 products and 10,000 customers.
On the other hand, Vonza offers a 30-day trial period and a FOREVER FREE plan that covers the most basic features. Moreover, its paid plans are quite inexpensive and more diverse as compared to Kajabi, starting from $99/month.
For instance, the basic plan of $99 offers 20+ features, including unlimited customers, no transaction fee, up to 5 courses, 3 funnels, 10 products, and more. It means that you save almost 33% of Kajabi's basic plan and that too with more diverse features and benefits.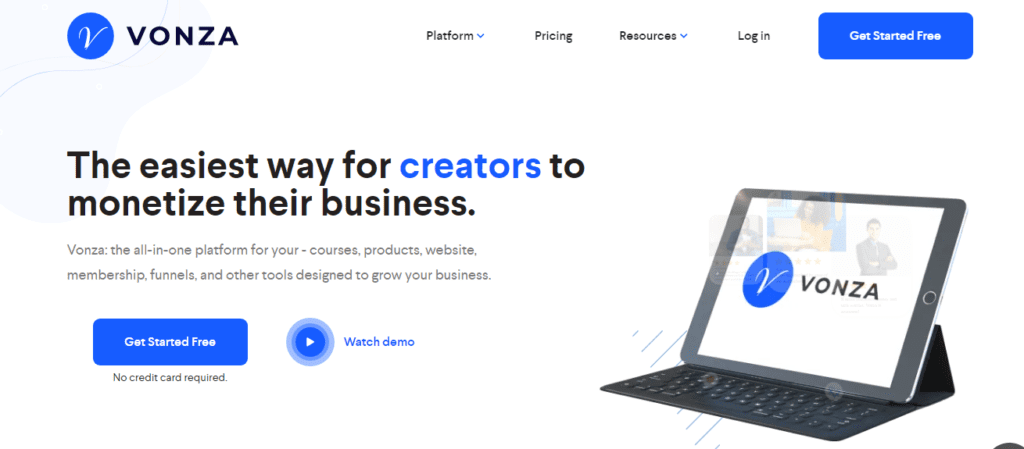 2. All-in-One Platform
You want a platform that allows you to manage your online business in one place, right? Though Kajabi is an all-in-one platform for course creation and coaching, it lacks other features such as an online store and customer relationship management (CRM).
However, Vonza is a comprehensive platform that replaces around 16+ tools and software so you can manage your business in one place.
Unlike Kajabi, Vonza's basic plan lets you create and sell up to 5 courses and 10 products. You can also schedule events or content, create forms, get instant payouts, access Vonza university, and create affiliate programs with the basic plan.
3. Online Store
You can't build an online store with Kajabi.
However, Vonza allows you to build a secure e-commerce store for FREE. You don't need any technical or coding expertise to build the store, Vonza's quick and simple drag & drop builder helps you launch a store in just a few clicks.
You get a range of theme options for the store and you can also customize the theme to your choice. The themes are highly responsive, ensuring that your customers get a smooth experience across multiple devices.
You can display and sell unlimited physical and digital products to unlimited customers with Vonza. What's unique about the platform is that along with displaying pictures of the product, you can also showcase video highlights to demonstrate a product.
With Vonza's e-commerce store, you get customizable email templates to easily communicate with your customers. The platform also optimizes your store for SEO to boost your ranking on search result pages. You can use Vonza's analytical tools to track the site's performance and improve your strategy.
Vonza is definitely the right system you need 👇
4. School Management System
Kajabi doesn't offer school management functionality.
However, Vonza offers easy to use software to schools and universities so you can easily run and manage your institutes. From schools and training institutions to colleges and universities, everyone can use Vonza School to streamline and automate their operations.
With Vonza's Enterprise Resource Planning (ERP) solution, institutes can easily create and manage their degrees, courses, and more.
From creating a professional education institute website to efficiently managing courses and students in a learning academy, you can do it all with Vonza School.
Vonza's all-in-one suite also allows you to schedule appointments, admissions, funnels, webinars, SMS text messaging, email marketing, and more. It also allows you to create and manage live classes with smooth video streaming. Moreover, managing your finances is fast and easy with Vonza School.
Vonza vs Kajabi- A Comparison Table
| | | |
| --- | --- | --- |
| Features | Vonza | Kajabi |
| Pricing (Basic Plan) | $99/month | $149/month |
| Free Trial | 30 days | 14 days |
| All-in-one Platform | Yes | Yes |
| Online Store | Yes | No |
| School Management System Software | Yes | No |
| Digital Products | Yes | Yes |
| Physical Products | Yes | No |
| Live Notifications | Yes | No |
| Sales Funnels | Yes | Yes |
| Drip Functionality | Yes | Yes |
| Customized Dashboard | Yes | No |
| SMS Text | Yes | No |
| Live Notifications | Yes | No |
| Unlimited Students | Yes | No |
| Unlimited Customers | Yes | No |
| Email Marketing | Yes | Yes |
| Free Migration | Yes | No |
| Forever Free Plan | Yes | No |
| CRM | Yes | No |
| Automation | Yes | Yes |
| No Transaction Fee | Yes | Yes |
| Easy to Use | Yes | No |
5. Better Customer Service
While Kajabi's customer support is focused on their US customers only with opening hours fixed on US time zones, Vonza's support team is accessible 24/7, making help available anytime you might need it.
The above reasons are only the tip of the iceberg, so we suggest checking out Vonza, the best Kajabi competitor – at the end of the day you can do so free of charge, so there is nothing to lose.
6. The Setup Process
According to its users, one of the strongest perks of Vonza over any other similar platform is its user-friendliness.
Any professional that's looking to start building their endeavor online will get the option to choose exactly which type of business they're looking to set up. The options include:
Coaching/consulting
E-commerce
Personal website
Health & fitness
Art & creativity
Personal development
Spirituality
School & university
Network marketing
Non-profit
HR or internet training
Other business
What's more, in case you already have an online course, you can easily set up various necessary templates with just a few simple clicks of the button. This will make the whole process infinitely simpler and faster, which is precisely what you're looking for.
7. Video Safety
This is one of the perks of Vonza, compared to other platforms, that's particularly important for all the coaches and tutors out there.
If you're selling any type of course online, especially the ones in video format, Vonza is arguably the best option for you.
With its fixed backdoor, Vonza enables you to upload and sell your videos without the fear of any of them being exposed to any type of unauthorized access. That way, coaches and tutors can rest assured that their video content is entirely safe and fully protected against theft.
How to Migrate From Kajabi to Vonza For Free
Our migration service is free and all you have to do is relax while we move all your downloads, courses and switch your customers over from Kajabi.
Migrations are FREE on any Vonza Annual plan you choose. Switch over easily today.
By now, you must be convinced to use Vonza as a better yet cheaper alternative to Kajabi. If you already have your business operations set up with Kajabi and you want to migrate to Vonza, you can do it now without paying a penny.
Vonza is a free Kajabi alternative that offers a lot more unique features at reasonable prices.
Try Vonza's free trial today and manage and scale your online business faster!