Hey Vonzanites,
It is with great pleasure I write you today to share with you on the current Vonza update – roadmap for Vonza. Recently, we started a new development cycle called "Vonza 3.0."
I founded Vonza because of my frustration with needing to tie multiple subpar tools together to run my online business and in the process wasting precious hours, money and dealing with tech frustration. There had to be a better way for entrepreneurs and small businesses and Vonza is the solution, and the future.
Vonza serves as an entrepreneurs dream come true because it reduces the hours of time and tools needed to run a sustainable business without sacrificing the ability to scale and grow their business.
Vonza Mission
Our goal from day one is to make online business simple for entrepreneurs and creators. We want to empower you to change lives and change the world.
Vonza update 3.0 is one of our most ambitious development cycles ever. Our main goal in this development cycle is to strengthen existing Vonza features and build out their sub features as well.
We launched our beta on February 14th 2020 with just a few tools and today we have released over 10 solid features on the platform from online courses, memberships, physical products, digital products, forms, scheduling, cloud drive, Vonza schools, sales funnels, website, email marketing, payments, coupons and beyond.
Your feedback and support have been incredibly helpful in helping us shape Vonza into a world class online business software.
Here is what we're working on in Vonza Update 3.0:
1. Scheduling: About 3 weeks ago we started the uplift on the Scheduling feature. We have identified and fixed several bugs. The Vonza Scheduling feature will be more stable and more powerful. Here are some of the new sub features of the Scheduling
– Ability to set minimum time before a meeting time can be booked
– Set or restrict same day meeting time
– Take various payment types – One-time payment, subscription, installment, flexible, payment plans and more.
– More customizable and flexible scheduler
– Add Category options so related meetings can be on a single url
– Add color customization of meeting widget
– Enable option to create or add an email tag
– Add option for Thank You message for successfully booking a meeting
– Add option for meeting to be Public or Private link
– Ability to Synch Vonza Scheduling to ALL major calendars like Google, Apple, Yahoo, Outlook. So, when a Vonzanite gets a meeting, it gets synched and booked AUTOMATICALLY with their external calendars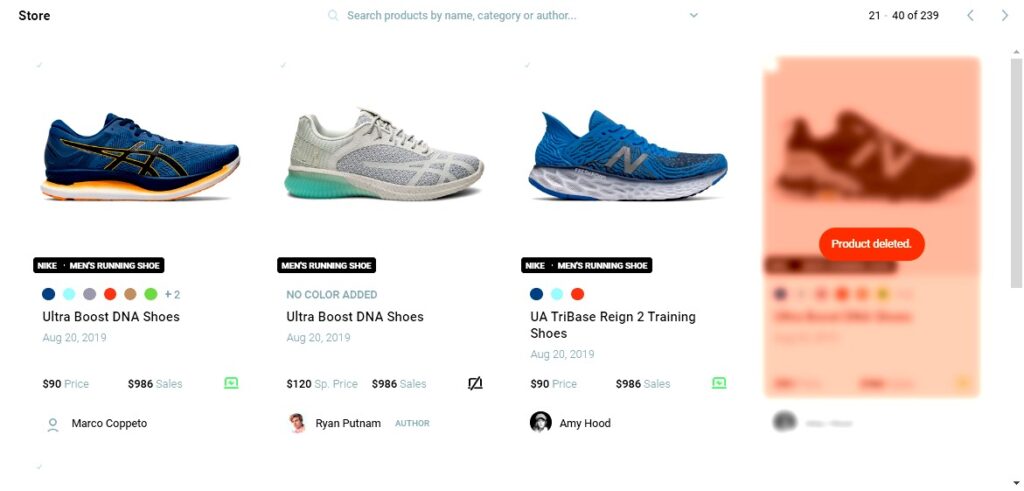 2. More robust website builder: Think Wix + Squarespace + Webflow. We are improving the Vonza website builder in the next couple of weeks.
More website templates and themes
More drag and drop functionalities
Hundreds of fonts to choose from
More custom design and functionality
Ability to build a world class website with tons of functionalities
3. Vonza Forms: Enable multiple payment options for Forms like one time, subscription, installment, flexible etc.
4. Advanced Platform Analytics: Such as page views, traffic source etc. We want to give you more data.
5. Google analytics pixels: Enable Google Analytics code on platforms for tracking just like we do for Facebook Pixels.
6. Vonza Business plan: You will be able to host and manage 3 websites under one Vonza business account. You can have 3 separate standalone websites with their own custom domains under the same account in the business plan.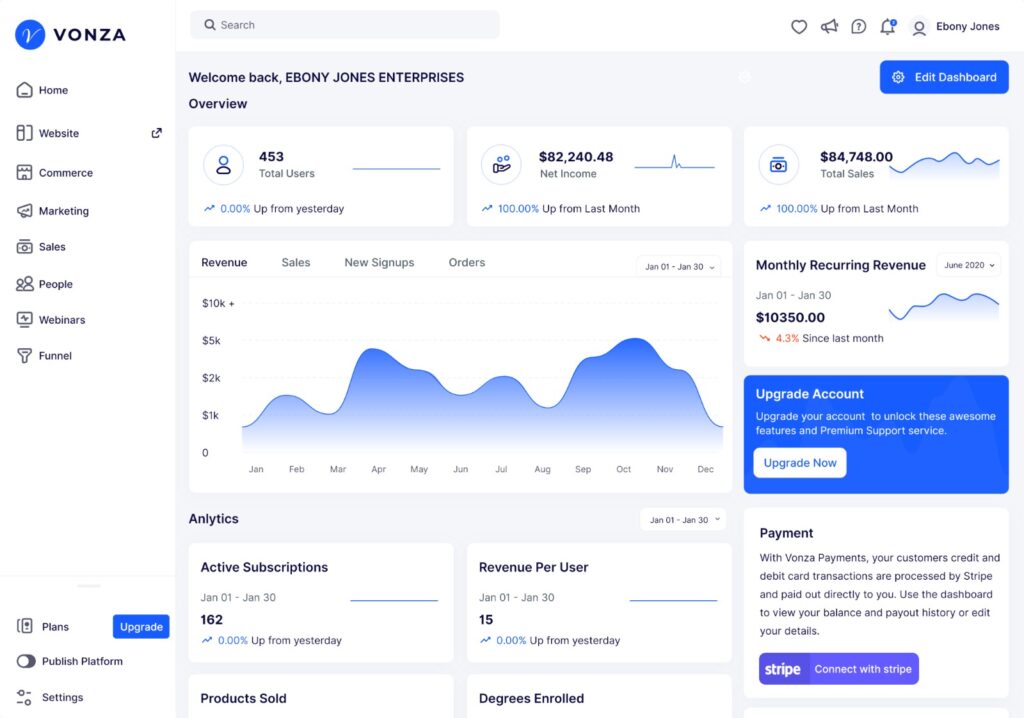 7. Vonza Sales Funnels: Multiple payment options for Sales Funnels checkout page just like on courses. Also Bump offer for sales funnel checkout page.
8. Redesign our Vonza homepage: The main Vonza.com website and pages will be uplifted with a more modern and sleek design.
9. Vonza SMS: One of our ambitious goals is to release Vonza SMS text messaging before the end of 2021.
10. More Features Coming soon: After Vonza 3.0 development cycle, we will prioritize and start building out some more features that Vonzanites have been asking for. The following below are in our future plans:
a. Vonza CRM
b. Vonza Proposals & Contracts
c. Vonza Invoicing
d. Vonza Livestream
e. Vonza Payments (VonzaPay)
11. We're Hiring: We are looking for talents in the following areas – COO, marketing, sales, community manager, SEO, content writers, growth hackers and customer support. Send resumes to info@vonza.com
Vonza is changing lives and businesses today. We're 100% self-funded (bootstrapped), an ever-growing enterprise and we're just getting started!
We are currently serving thousands of customers every day.
As always I appreciate your Vonza love, support and feedback.
In your service,
Uyi Abraham
Founder/CEO