How to Presell Online Course? Lots of people keep asking about the preselling of online courses. Vonza here will share the steps to presell your online course.
Learn how to generate income with a strong online presale. Read the steps of how to presell online course, pre-launch, & the advantages with Vonza in 2022.
Earlier, we shared how to grow your business by upselling and cross-selling. In this guide, we shall take a detailed look at how to Presell your course.
A great way to avoid the regrettable situation of creating a course that no one buys is to pre-sell your online course.
Nobody plans to create an online course that doesn't sell. But by failing to plan, you risk making very low course sales.
What is Pre-Selling?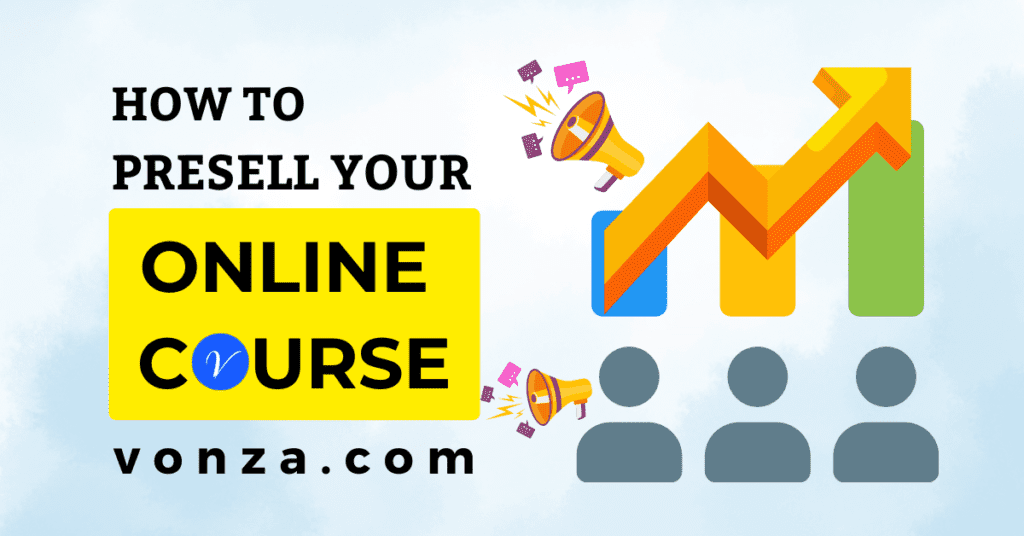 The way to avoid creating an online course that no one buys is to sell your course before you create it. This approach is often called pre-selling.
Pre-selling is a way to promote and sell your online course even before its official launch. You present your target audience with a deadline to purchase your course if they want to participate in the pre-sale program.
Learning how to pre-sell a product can make a huge difference in your online course sales numbers and brand recognition. Pre-orders give you cash flow while you develop your course.
Today, I'm going to show you why pre-selling your online course is critical to your success as an online course creator.
Reasons To Presell Online Course
Selling something before you create it is not a new concept. Individuals and organizations from all over the world have pre-sold various products and services before they committed to creating them.
By pre-seling, you are validating the demand for your course upfront, before investing the necessary time and resources to create them.
Sales from real customers are the ultimate form of market validation. If no one is willing to pay you for your online course, the demand for your course hasn't been validated.
Tips On How To Presell Online Course
The process you should follow to create and launch an online course are:
Get inspired by something, you fix an online course idea.
You have all the reasons to believe it's an amazing idea, so you commit to it.
You spend a great deal of your time, money, and effort creating the course.
You either publish it on an eLearning marketplace or set up your own course website.
You move on to the marketing phase and start promoting your course to get your early sales.
Advantages of Pre-selling your Online Course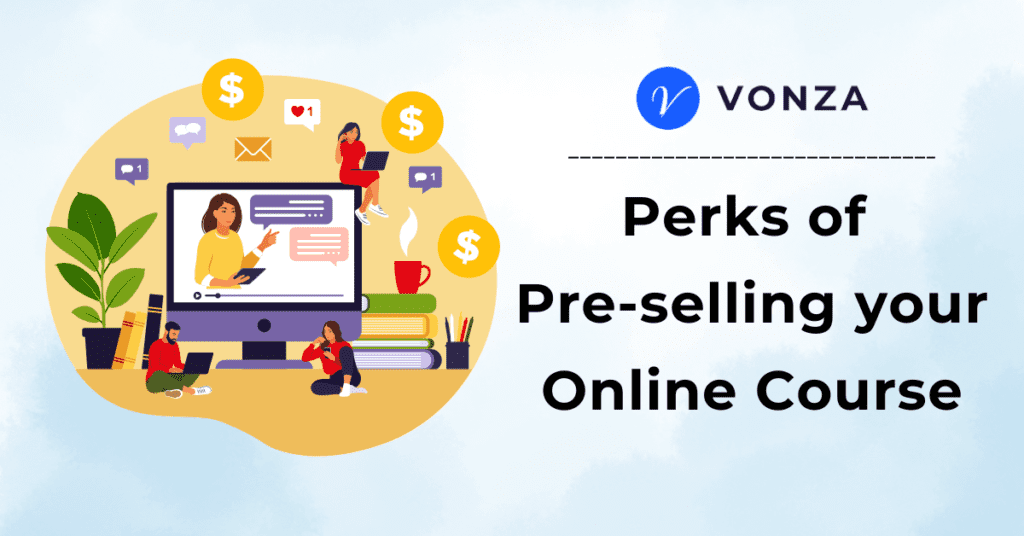 The following are benefits you derive from pre-selling your online course…
Validate Your Idea
Coming up with an idea is one thing. The question is, is it the right idea? What you think your students need and what they actually do need can differ.
Even if you might know well your audience (and you should), it's still possible that without confirmation you have accidentally misunderstood some of their needs.
That's a problem when creating a course because you can waste a lot of time producing something only half-good. Pre-selling helps navigate this, honing in on what your audience really needs.
Upfront Revenue
Let's face it, creating a course brings some small degree of risk. After all, you commit several weeks (maybe months) to build something that may or may not sell.
Again, pre-selling helps navigate this as you receive some revenue upfront and ahead of time. It reduces the risk and removes a lot of pressure from your shoulders.
Instant Feedback
This may be the biggest benefit of all because the very nature of pre-selling centers around collaboration and feedback. You learn what your audience needs before you create it.
And then, when you do create it, they share instant feedback. Also, one thing is for someone to tell you they think an idea is good.
Another very different thing is for people to actually purchase your course upfront.
Audience Growth
One of the biggest struggles a course creator faces is the ever-present need to grow and nurture your audience. Whatever industry or niche you're in, everything centers around the people you serve.
There are a million tactics to grow your reach, but it's hard to hone in on the right one for you—let alone expensive. Pre-selling can help in this regard.
If you manage to pre-sell your online course to at least a few people in a smaller audience, this means that your message resonates well with them, and you will continue to increase your sales as your audience grows.
Accountability
This final benefit is a big one because pre-selling your course holds both you and your students accountable. You have no choice but to do the work because a group of people paid for your course upfront.
You will feel extra motivation to go the extra mile to deliver as fast as possible the best course possible, based on all the feedback you received.
How To Create a Pre-Launch Offer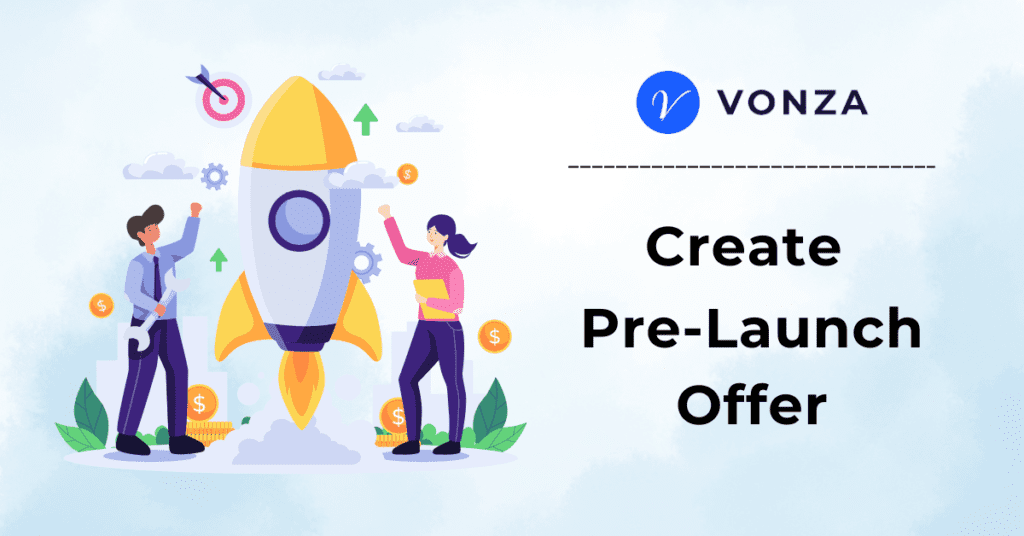 You may be wondering, how do I create a Pre-Launch offer and advertise my online course? Worry not more.
Build A Pre-Sale Page
Every online business should have a website and a sales page. But since the products aren't launched yet, you must create a pre-sale page. This page is also referred to as a pre-launch page.
The primary purpose of a presale page is to convert visitors into customers. This page should include several sections aimed to describe your course and its features.
All of these tools mentioned are available for you all in one place on Vonza.com. Sign up today for Vonza's 30-day free trial, to start enjoying all those benefits.
The components of a good presale page are as follows:
1. Catchy Headlines – Your headline should be captivating enough so that it forces your visitor to stay on the page and keep reading about your course.
2. Course Features – Simplify the benefits of your course and the value they will get from it, and add some details about your lessons that might interest your target audience.
3. Testimonials and Social Proof – Social proof is a game-changer when it comes to selling an online product, especially during a pre-launch, where you are basing your sales pitch only on promises.
4. Introduction Video – Creating a video where you introduce your course and its major benefits will make it easier for your customers to understand what you are selling.
5. Call to Action and Emails Optin – Your pre-launch page should have a CTA (Call To Action) button, to collect personal details and payment from your customers.
Another important step to securing your first round of students is promoting your pre-launch.
There are many ways to market your course, below are a few ideas on how you could do it:
Talk about your course to friends and family
Share your pre-launch on social media
Write a blog post or contact bloggers for guest posts
Promote to both old and new audience

Post videos on YouTube

Engage in effect brand partnerships

Work on your pre-launch page's SEO

Start a podcast or webinar
Consider paid ads and PPC
All of these tools mentioned are available for you all in one place on Vonza.com. Sign up today for Vonza's 30-day free trial, to start enjoying all those benefits.