Finding the right way to start and grow online business can be difficult for a self-starter. Learn the 10 ways to start and grow online business. Check out these steps on how Vonza helps you with your business online through its platform.
Vonza is an all-in-one platform with multiple features like course creation, email marketing, customized dashboards, website builders, landing page templates, Vonza school, and more.
There is a proven sequence of steps you can follow to ensure the victory when you are starting a small online business today. We have witnessed thousands of people start and grow successful businesses with Vonza.
According to Forbes and Huff Post, 90% of eCommerce start-up businesses fail within the first 120 days. One of the reasons these business startups close up so quickly is a lack of proper planning.
Many startups have very little information about their target market. Whereas, choosing a niche and defining your target audience are the two most important steps to starting an online business.
The more you know your audience, the better you will be able to cater to them, and the more they will turn into loyal customers.
Starting an online business may be one of the most rewarding things you'll ever do. There are so many good reasons to start and grow online business:
Here are the 6 Good Reasons to start online business
To share your knowledge with others
To reach a wider audience

Deeper impact on your customers

To generate income
To optimize your skills and gain experience
It is not expensive to create an online course
You can now see the benefits of starting and growing your online business. Let us now take a look at the steps required to start an online business.
Steps To Start And Grow Online Business
There is no product without a process. The sequence of steps to start and grow online business are as follows:
Identifying your niche
Find out what certain people need the most
Figure out how to meet certain needs
Create quality content to push your products or services
Build a website with an excellent user interface and experience
Use Google and Bing to drive traffic to your site.
Begin Email and Social Media Marketing
Build a reputable personal brand

Follow up with your audience from time to time

Create and Sell Online
You may be wondering, how do I achieve all these? This is where the Vonza comes in. Vonza is an all-in-one platform with all the resources you need to start and grow online business without much stress.
Ways Vonza Can Start & Grow Online Business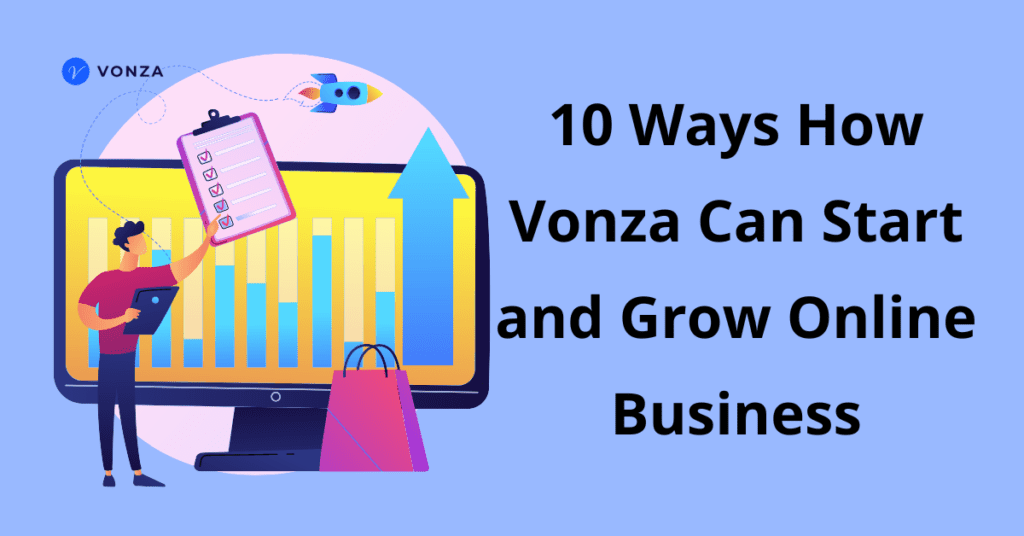 There are a lot of amazing features available here at Vonza to enable you to start and grow your business. Check out the various resources to start and grow online business with Vonza.
Vonza's Online Course
Vonza makes it simple for you to create and sell courses online...
The e-learning market is expected to be worth $325 billion by 2025. It was worth just around $46 billion in 2018.
Creating and monetizing online courses can be challenging. But the good news is that you can easily create and sell your courses with the Vonza Online Course Platform.
Create Profitable Online courses with Vonza. Get paid to share knowledge with your audience.
The following are ways to grow online business and make money with the Vonza online course
Vonza's Online course creation tool is feature-rich and yet so simple to use. It offers easy-to-use blueprints to create and sell courses and can grow online business. The online course creation tool can help you:
Set up a course – Create unlimited courses, ranging from mini-courses to in-depth online courses.
Customization – You can edit its pre-made themes or create one from scratch, the platform gives you full control over customization.
Membership – Designed for course creators to strengthen their relationship with the customers and ensure an improved customer experience.
Drip function- It allows you to schedule and manage your content in bits.
Recommended: How to create online course on vonza
Feature-Rich Courses
Building online courses shouldn't be complicated if you want to grow online business. The following are the top features of Vonza's online course:
1. Simplicity
Vonza's course platform is easy to understand and simple to use yet it is powerful enough for the most demanding online education business.
2. Online Course Sales
Our integrated platform empowers you to offer your courses 24/7 and grants your students access at any time.
3. Online Community For Your Course
Seamlessly create an exclusive subscription-based community with content to serve your audience.
4. Different Course Formats
With Vonza, you can add video, images, YouTube, text, audio, ebooks, and PDF files.
5. Drip Content
Your customers can receive content bit by bit, perhaps over the course of a few weeks or months, until they have access to the full library.
6. Online Course SEO
To grow online business, we optimize your course platform to cause search engines to discover you.
7. Course Analytics
Our analytics tools help you keep track of site performance and visiting customers.
8. Social Share
Share your courses across various social media platforms for free.
9. Certificates, Quizzes & Downloads
Reward your students when they finish your course with customized completion pages and completion certificates. Create quizzes and assessments to test your user's learning progress.
10. Supports Integrations
Our platform has several integrations and support tools to help you maximize your online platform.
Recommended: Vonza features to increase sales
Vonza's Website Builder
Your online business needs a website…
If you know what kind of line you want to start and grow online business, you need to build a website.
Creating a business website is next once you've understood your target market and got your product.
Easily build a website to help your business grow and serve your customers. Start today with Vonza's free powerful website builder.
In our articles on how to promote your webinar and build a personal brand, we emphasized the reasons you need a website. Vonza helps you build standard personal and business websites for different needs.
Our all-in-one platform connects your website with your courses, physical and digital products, membership pages, sales funnel, and email marketing.
The following are the top features of Vonza's website builder:
Customize Your Site – Use a website template and customize it to your taste in a few simple steps without coding.
Website Hosting – You'll have reliable and secure hosting that has your site running smoothly and your pages loading quickly.
Subscription Forms – Collect the names and emails of your visitors. Grow your email lists and stay in touch with your customers.
Custom domain – Use your own domain name and build trust with your customers.
Fully mobile-responsive – Your website fits perfectly on all devices. Users can view your content on their phones, computer, and tablets.
Recommended: Try vonza's website builder
Sell Products On Vonza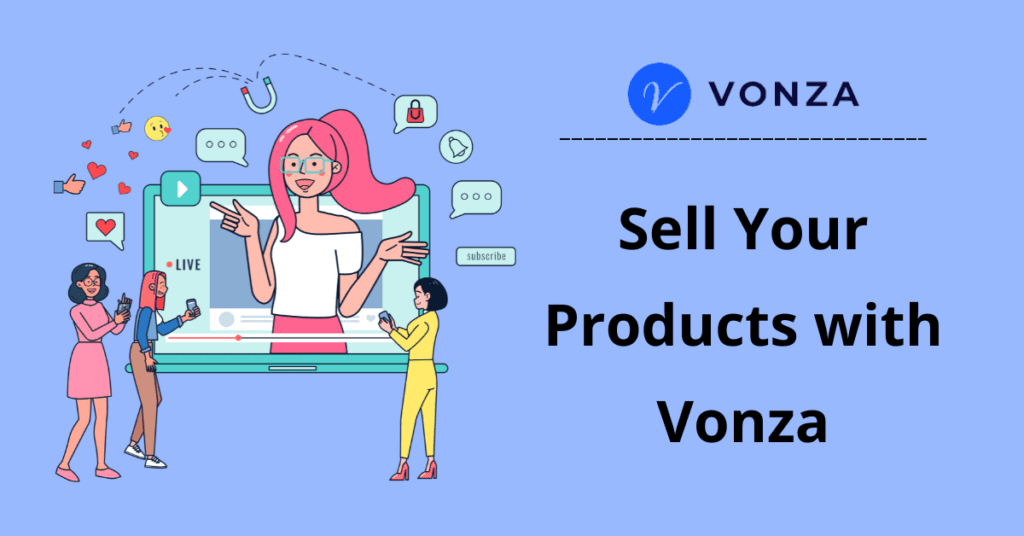 You can sell both Physical and Digital products with the Vonza all-in-one online business platform.
Start for free.
No credit card is required.
All features included!
Sales involve the selling of goods and services while Marketing is the technique used in promoting sales and distribution of products or services. Vonza helps you achieve both.
A digital product is any product you sell online that doesn't have a physical form. Digital products can't be held, tasted, or touched.
Some examples of digital products are:
Online courses
Webinars.
Kindle books.
Audiobooks.
Software programs.
Website builders

WordPress themes.

Printables.
Membership sites.
Workbooks.
A physical product is any product you sell online that has a physical form. Physical products can be held, tasted, or touched.
Physical products include durable goods (such as cars, furniture, and computers) and nondurable goods (such as food and beverages).
Feel free to follow these Vonza sales and marketing tips to grow online business.
Vonza offers online payment methods for your digital and physical products. You don't need to bother about how to receive online payments for your digital products.
Recommended: Sell products on vonza
Vonza Scheduling
Vonza Scheduling grow online business and helps you manage your time and meetings...
This tool is a free online appointment scheduler that helps you to manage your meetings and online calendar.
You can get rid of the old-fashioned method of using phone and email tags for scheduling meetings, events, appointments, demos, interviews, calls, and more.
Vonza scheduling is simple and attractive to use. You can set your availability preference, share the link with your customers or prospects, or simply show it on your Vonza website platform and allow them to pick a suitable time for the event, to grow online business, which is added automatically to your calendar.
Once an event is created, it can be shared with invitees using a shareable link that will get generated right after the creation of an event, using this link end users/attendees can schedule the meeting.
Use the Vonza scheduling to:
Schedule free or paid one-on-one appointments.
Group scheduling and booking classes.
Client rescheduling.
Collect everything you need to know about a client as soon as they schedule.
A single user can schedule multiple upcoming events.
Booked events will directly get added to the user's Google / Outlook / iCloud calendar
Sends confirmation and reminder emails.
Free or paid appointment schedules (Allow attendee to pay using credit card or PayPal )
Vonza Scheduling Features
Time Zone Intelligent – Auto adjusts for time zones so everyone is on the same page.
Control your availability – Sets daily limits for the number of meetings and minimum scheduling notice. Manage multiple locations and employees.
Easy notification – Get updated anytime a new appointment is scheduled.
Website embed – Allow users to schedule directly from your website or via a shareable link.
Easy cancellation – Your users can easily reschedule/cancel using confirmation email of booked meetings.
Gain loyal Customers – Stop losing hot prospects, start gaining loyal Customers, and in turn increase revenue.
Improve team collaboration – Optimize time-saving with automated features.
Collect payments – Integrate payments from 130+ international currencies.
Savings – Save time and money with the free online scheduling tool to grow online business.
Recommended: Vonza scheduling and automation
Vonza Forms And Surveys
Create Easy-to-use online forms for any use…
Build custom online forms, quizzes, and surveys to collect data and generate leads to grow online business. No technical expertise is required.
Customize forms – Design professional-looking forms with Vonza Online Form Builder. Customize with advanced styling options to match your branding.
Surveys – Easily create surveys for customer feedback and build loyalty. Integrate online surveys into your website.
Quizzes – Create quizzes to measure knowledge or polls to determine what your customers want. Create exciting quizzes that engage your audience.
Accept online payments – Process online payments from 130+ international currencies.
Real-Time analytics – Track conversions with Google Analytics or Facebook Pixels.
Integrate your forms – Embed your form into your website or send it to your customers to fill out.
Social Share – Share the form links on your social media platforms.
Recommended: Build forms with vonza
Sales Funnels
The sales funnel, another way to grow online business, is each step that someone has to take in order to become your customer.
The sales funnel is crucial for analyzing the performance of your business and identifying areas for improvement.
Vonza's integrated pipelines eliminate the need for any integrations. You can create appealing funnels with just a few steps to grow leads and sales.
Moreover, Vonza's funnels are completely automated, meaning you just create and set up your pipelines and they'll run automatically.
One-click upsells
Order bumps
Create multiple pipelines, including funnels for physical products, digital products, courses, memberships, and more.
Appealing pre-made templates for different stages of a funnel.
Organize everything in one dashboard.
Automated funnel's search engine optimization (SEO) to increase its chances of ranking higher on search result pages.
Affiliate center to manage your affiliate team.
Coupons and discount triggers to increase sales.
Fully integrated shopping cart and payment options.
Create and design funnels that will give your business a boost in traffic and sales.
Sales funnels will explode your business revenue. Create and sell unlimited products and services to unlimited customers.
Recommended: Build a sales funnel with Vonza
Vonza Email Marketing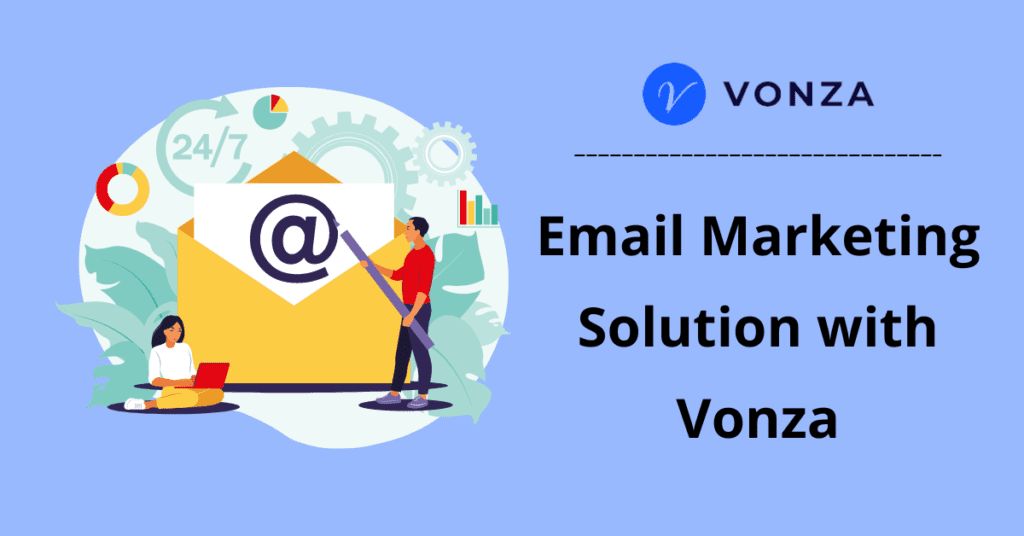 Email marketing, another way to grow online business, is one sure way to grow your online audience. It is one of the most efficient methods of growing your brand and acquiring more conversions.
The steps to growing your email marketing are discovering your audience and delivering valuable emails.
Email marketing is the backbone of any business as it delivers a strong return on investment and helps convert more effectively. That's why 87% of marketers use email marketing to distribute their content and increase engagement.
The benefits of email marketing to grow online business are immeasurable. Email is one of the most efficient ways to reach your market, and the more people who know about it, the more opportunities you have to sell your product.
Vonza, on the other hand, offers a complete integrated email marketing solution with brilliant features such as:
Creating, segmenting, and personalizing your email campaigns
Unique email templates
Preset sections where you can enter new content, images, video previews, and more
Allows template customization
Mobile-responsive layouts
Integrate with other platforms like Facebook, Salesforce, Stripe, PayPal, Slack, and more
Real-time analytics and tracking
Fast delivery without any hassle
With Vonza Marketing Tools, you can create an amazing email marketing campaign.
Recommended: How to start email marketing
Membership And Community
Vonza gives you everything you need to create and build your online community and membership site fast just to grow online business. It is simple to set up and no integrations or tech is necessary.
There's no need for a separate membership site platform to connect to your subscriptions, automation, payment, and content; Vonza has it all built-in.
Your online courses, memberships, products, email, sales funnels, and your entire online business are all in one place.
There are many ways to connect with your clients and your community. One of the most powerful ways is through membership sites.
With a few clicks of the mouse, you can take your ideas, strategies, content, and experience of into a membership portal.
Our system gives you the opportunity to continue to help your clients grow using your methods and techniques. Upload your own content in digital or physical form to grow online business.
Vonza Membership Features:
Member-driven Online Courses – Create, host, and make available exclusive online courses to your members.
Recurring Revenue – Our membership platform makes it easy for you to monetize your content and community through weekly, monthly, and annual subscriptions.
Online community – Make it easy for your community members to network, collaborate, and do life together within the safe community space.
Custom branding & personalized domain – Use our vibrant membership website builder to build from scratch or customize a pre-designed template.
Private group – Post gated content, images, and videos to your community.
Membership tiers – Create one or multiple membership tiers, levels, or groupings based on price or content access that are used to classify individual memberships.
Membership database – All your membership data is stored safely in the cloud, allowing you to easily search, update, and share your database with teammates from any device.
Automation – Easily create automation around your membership.
SEO & site stats – Vonza optimizes your course platform to cause search engines to discover you.
Message your members – Our platform makes it simple for you to email or message a single member, or all of your members.
Share products feature – Make it easy and stress-free for your members to post your products on social media platforms, which will boost exposure and revenue.
Recommended: Build a membership site with vonza
Vonza University
Show off your outstanding education institute website powered by Vonza Schools, another way to grow online business. Your website connects everything about your school in one simple and powerful place.
Everything you need to run, manage and grow your higher education and training institute.
These are ways vonza manages your school:
Learning Academy – Academic operations simplified. Efficiently manage courses, students, and lectures for the educational institute with the click of a button.
Integrated apps – Simplify and succeed with the Vonza all-in-one suite.
Admission system & CRM – Vonza Schools manages all the stages in the admission process.
Financial management – Collect admission fees, tuition, levies, and more. Get paid faster and easier with simple and seamless integration with Stripe.
Live classes – Seamlessly create, manage and host high-quality live teachings video streams, webinars, and training on our platform.
Recommended: Everything about Vonza school
Vonza SMS Marketing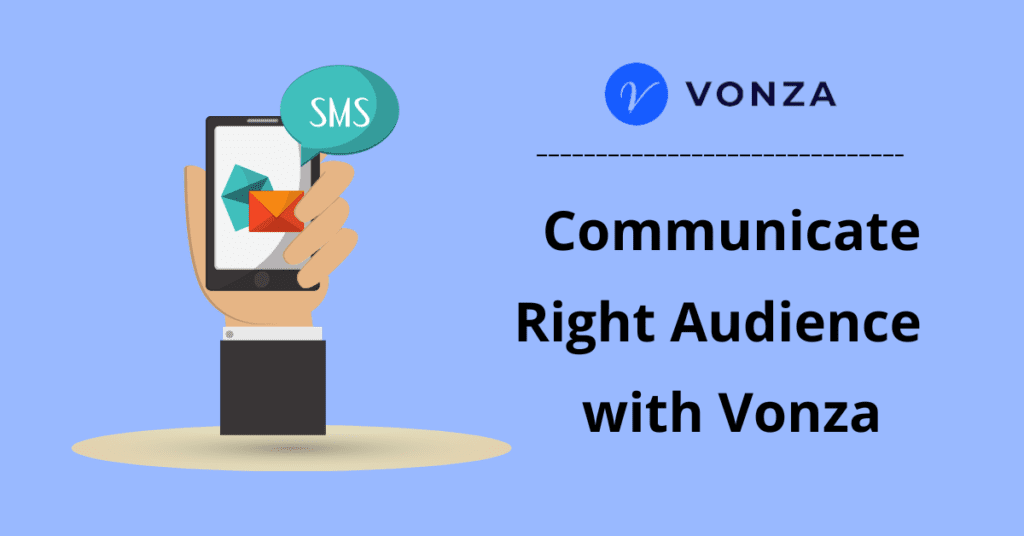 You may also communicate with many individuals and customers at once by using text marketing; this helps to grow your online business in the industry. SMS messaging, another way to grow online business, is a quick marketing strategy that delivers your message to the intended audience at the right time.
Send and receive text messages, communicate product offers, announcements, discounts, and beyond directly to your customer's phone.
Sms Marketing and Automation – Scheduled automated text messages and keyword triggers allow your phone to work for you.
Two-Way SMS Chat – Send and receive text messages online or by phone using our two-way SMS chat.
Powerful, easy-to-use SMS dashboard – Our text message marketing software is cutting edge.
No contracts – Take advantage of cost-saving plans or opt to pay as you go.
Send Texts Online – Login to your account and send bulk SMS online to 200+ countries from your computer or phone.
Keyword or texting phone number – Get your own unique keyword or dedicated phone number.
Recommended: Vonza SMS Marketing
If you want to start and grow online business, choose Vonza now.
Vonza simply provides all the features mentioned above and more in one seamless platform. Start your FREE 30-day trial today.