We've looked at 20+ Online course platforms for 2022 and hot cake reasons you should consider creating a course online. It is time to market your online course.
A woman can't be said to be beautiful if nobody sees her. Ashley Massengill Made $1M In 40 Minutes selling courses online. One of her core strategies was Marketing.
You must market your online course to reach an ever-growing audience. The e-learning market is expected to be worth $325 billion by 2025. It was worth just around $46 billion in 2018.
Success requires some process. There is no glory without a story and no product without a process. Change your own story by marketing your online course to the world.
What are the best strategies to promote my online course? To market your online course, you must identify your target audience, add value, use a well-researched course title, etc.
Recommended: Make money with Vonza online course
Steps To Promote Your Online Course
The following are 10 hot cake steps to market your course, reach a wider audience and boost sales…
1. Know Your Audience
Not everyone is your customer. Survey your audience before you create a course. It is a waste of time and resources to focus on people who don't have an interest in your product.
You must be convinced that thousands of people are available and ready to accept what you wish to offer.
One of the most crucial areas of digital marketing is targetting. You must understand your audience and what they need at every point in time.
Ask yourself these questions:
Who am I creating this course for?
What countries am I focusing on?
Is this course for kids, young persons or old people?
What is the biggest need of my audience right now?
The questions above will help you get started with knowing your audience and their needs. Ensure to reach out to them and meet their needs.
Audience targeting can either make or mar your marketing career. So, focus on people that produce the best results for you.
2. Add Value
There is a 99.99% chance that you're not the only one in your niche. At least 500 other people are promoting similar courses. What difference do you make?
Adding value simply has to do with identifying what is lacking and then filling the gap.
What are individuals and brands in your niche doing wrongly? Identify these lapses and capitalize on them. Let this be the pivot of your advert.
You may be wondering, how do I add value to my online course?
Put your leg in the shoes of your customers to understand how they feel
Quality takes time but never compromise it for anything
There must be something to differentiate your course from others
Know where your products are needed the most
Give customers room for reviews and feedback
Focus on what you can do instead of your weaknesses
Remember, if you do exactly what others do, their weaknesses become your weakness.
3. Craft a Perfect Course Title
It is true that we shouldn't judge a book by its cover. However, a beautiful cover will spark the interest of readers.
Your online course title is as important as the course content. Craft a perfect course title as you work towards beautiful course content.
These steps will help you find the right title for your course:
Your title should be easy to remember
Use words your audience can relate to
Keep your course title as short as possible
Make your course title easy to understand
Use course keywords with high search volume
In essence, create a compelling course title based on keyword research.
4. Promote on Your Platforms
I'm not a social media person. This is the biggest undoing of many online course creators. You can't be a seller and not register a strong online presence.
A strong social media following was one of the reasons Ashley Massengill was able to make $1M In 40 Minutes selling courses online.
Get Social
You must learn to promote your course using your WhatsApp status, Twitter handle, Instagram, and Facebook Page. Post texts, screenshots, and videos to market your course.
Meet as many people as possible, save as many contacts as possible, and tell as many people as possible about your online course.
Blogging
Blogging has gotten so much exposure around the world. Blogging is a sure way to make money online and a medium to promote your online course. If you don't have a blog yet, create one.
Feel free to add an email subscription form to your blog. Readers will be notified of your recent posts via Email. This is called Email list building.
Quora
Quora is a gigantic platform to sell your online courses. You can make so many sales by simply answering questions related to your niche on quora.
vLogging
Video content is consumed now more than ever. Apart from posting videos on your social handles, we highly recommend that you create a YouTube channel to sell your courses.
Creating a YouTube Channel and Uploading videos is easy and free.
Regularly publish short and interesting videos. In fact, you can create a really helpful video and chip in your advert towards the end. This is called content marketing.
What if you aren't good at creating videos? There are 101 people out there who can help you create beautiful and marketable videos.
5. Promote on Other Platforms
Don't fully rely on organic traffic to your online courses. With the ever-growing competition, you definitely need to push your online course out there for people to see.
Set a budget and market your online course using at least one of the following platforms:
Google Ads (Search and YouTube)
Facebook and Instagram Ads
Twitter Advertising
Online Influencers
Vonza
6. Use Testimonies
Nothing boosts the confidence of people in what you offer like testimonials. Buyers are really interested in what others feel about your course.
Save all the positive feedback from people about your course. Share these testimonies on all platforms with every given opportunity. This is capable of doing magic.
7. Set Attractive Prices
The online course market is a hot cake right now.
Your marketing strategy could simply be offering high-quality content at a lower price than your competitors. Combine a really good course with a really good price.
8. Offer Discounts
Nobody loves discounts like buyers. Customers get turned on when they see percentage discounts on products.
Push your online course to buyers and let them know about your discounts and flash sales. This is a really good strategy to market your online course.
9. Meet Mentors
What you don't know is older than you. There are people in the e-learning market even before you thought of starting an online course.
These persons have been in the game and they know far more than you. A word from them will save you months of trial and error.
What you should do? Look up to big people in your niche. Be humble, learn from them, and your business will grow exponentially.
10. Create Using Vonza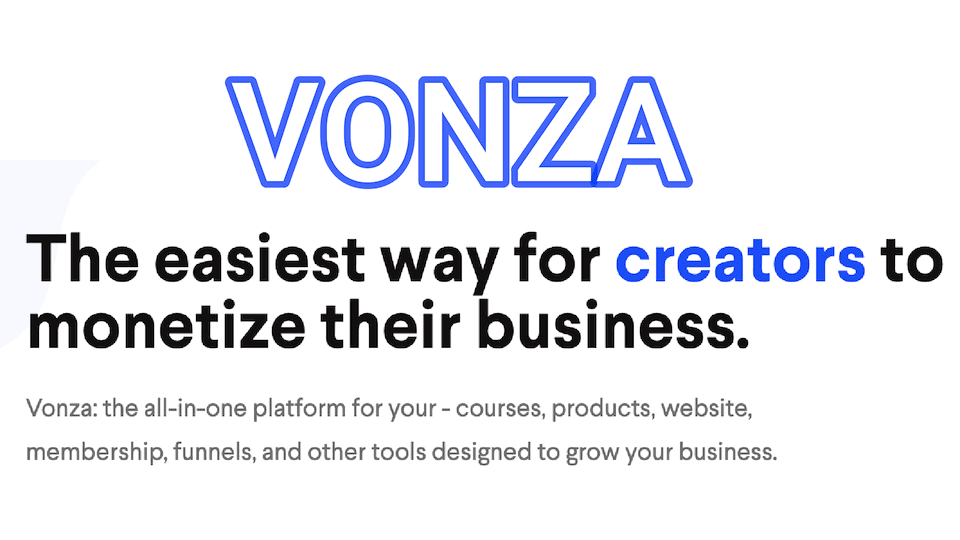 Set up a web page for your course. Include all the relevant information and a link to purchase the course. There are several online course platforms to choose from, preferably Vonza.
Vonza is an All-in-one online course platform with numerous marketing features. Start creating and marketing with Vonza.
Hope you found this helpful? Feel free to let us know how you feel using the comment box and don't fail to share this piece with others.