Any content creator out there knows just how frustrating it can be to use a platform that's supposed to make their life easier yet find themselves struggling more than they should.
Even though there are plenty of platforms, website hosts and service providers that offer amazing services, most of them still contain quite complicated steps that can really get in the way of any type of content being created.
Luckily, thanks to platforms such as Vonza and Kajabi, content creators can now give out a sigh of relief. In this article I am going to show you why Vonza is the best Kajabi alternative.
So, if you're only starting to create online content, or you're looking to build up your online presence and streamline your digital tool suite, Vonza and Kajabi are both excellent choices.
However, Vonza may be a better choice for you as it offers even more perks than Kajabi does. But in order to clearly display those perks, we need to take a closer look at both of these platforms.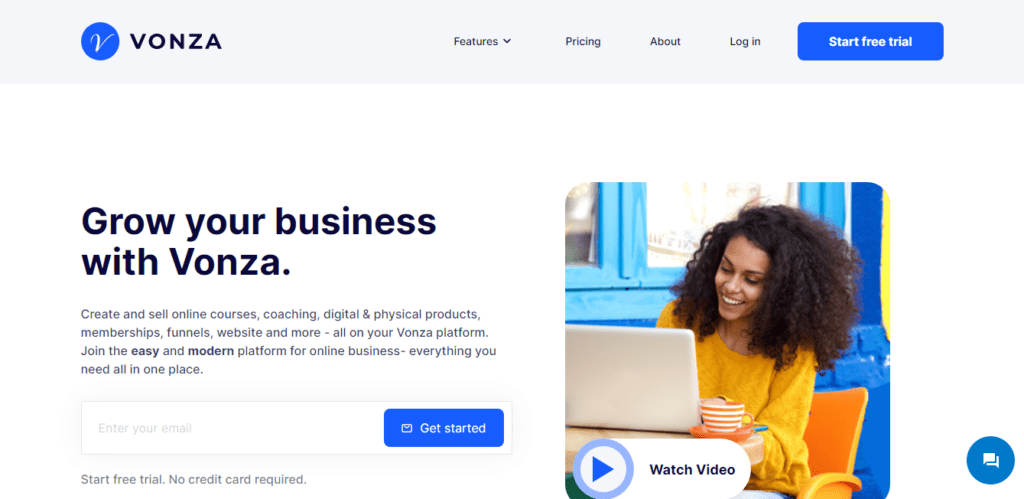 What is Kajabi?
Kajabi is marketed as an all-in-one online platform that's supposed to make content creation fast and easy.
Not only that, but it also offers the possibility to build, sell and market anything you want.
For coaches, this means that Kajabi offers them the opportunity to reach people with their content, communicate with them easily and host various courses.
Since the meaning of the word Kajabi is "to take flight," it's safe to say that this is the perfect platform to launch your endeavor.
Kajabi consists of nine different features, and these are:
Products
Websites
Payments
Email
Pages
Pipelines
Analytics
People
Mobile
Each of these nine features is made to serve the purpose of various standalone software solutions designed for each of these aspects.
Having all of these features bundled into a single platform will – naturally – save you both time and money. And even though all of this undoubtedly sounds great, there's still an even better option for coaches.
What is Vonza?
Vonza is also an all-in-one online platform that offers even more perks than Kajabi, particularly to coaches, entrepreneurs and small businesses.
As the best and fastest-growing alternative to Kajabi, Vonza offers even more features and functions. What's best, all of them will be accessible for only a fraction of a price when compared to Kajabi.
Why choose Vonza over Kajabi?
As mentioned above, Vonza is a better alternative for Kajabi, particularly for coaches and entrepreneurs that are looking to enhance their exposure and boost their online presence, as well as productivity.
One of the main reasons why Vonza is better than Kajabi lies in the fact that Vonza is significantly more affordable, yet it offers much of the same features – and even more!
What's more, Vonza is far more user-friendly, which greatly reduces tech frustration in new users and it makes things that much easier for the old ones.
So, with the help of Vonza and creative branding services any professional can easily establish themselves online.
To gain an even better understanding of this platform, let's explore all of the perks it offers to its users.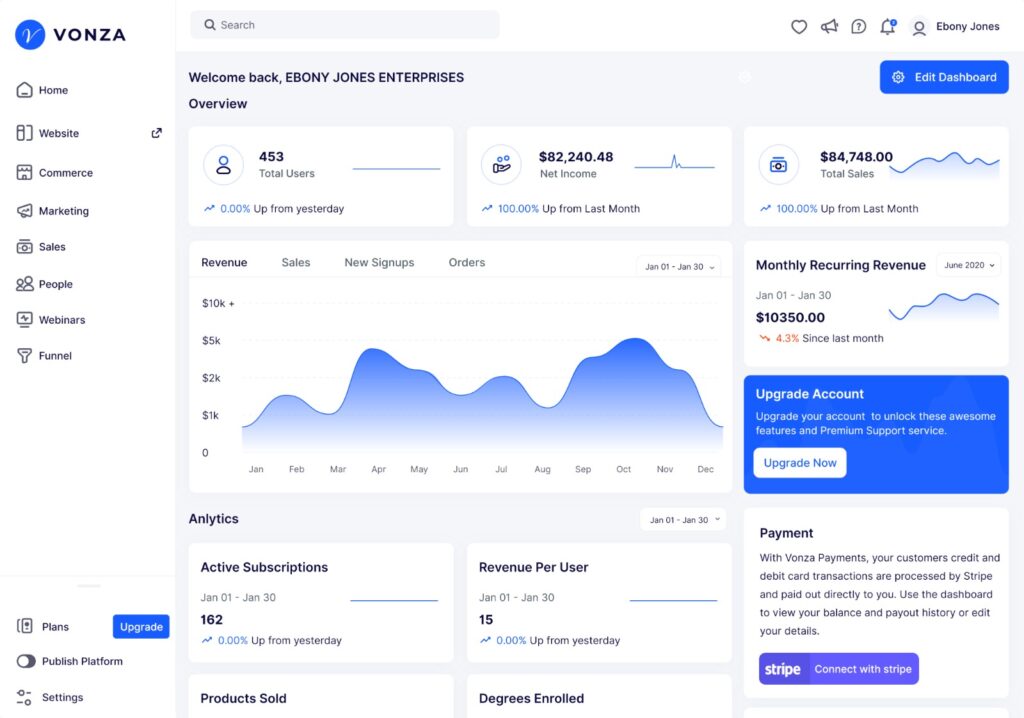 Free account
Any professional knows just how frustrating it is to have to pay to test out a platform. With Vonza, however, this simply isn't an issue.
Since you can't be certain that a particular platform or software solution will work for you until you try it out, you can't really determine if the price of it is justified.
Luckily, Vonza offers you the opportunity to create an account and try out all the features that it offers completely free of charge. That way, you will be able to see exactly what you'll get if you opt for this amazing platform which will help you determine is it worth it without spending a single dime.
To learn more about their offer, you can visit their official website for additional information.
Wide variety of services and solutions
Any professional out there knows just how frustrating and pricey it can be to gain access to all the different services and solutions necessary to establish their online presence. Not only that but having to deal with a plethora of different services and solutions may make things way more complicated than they need to be.
Moreover, having to pay for all of these can easily put a serious dent in your budget, while going for cheaper solutions may cause some serious downtime. Or they may even end up not working out for your endeavor at all!
Vonza, on the other hand, offers an all-around solution that takes care of all of these problems for you. As an all-in-one platform, all of your needs will be met – and some of them will even be exceeded! Vonza is the best digital products marketing platform.
While Kajabi offers the opportunity to create multiple layouts, it is still heavily focused on templates. But with Vonza, you can easily build up your website and implement any design and layout you come up with.
What's more, Vonza presents itself as a better means for promoting and selling various courses, which is extremely important for every coach out there.
The setup process
According to its users, one of the strongest perks of Vonza over any other similar platform is its user-friendliness.
Any professional that's looking to start building their endeavor online will get the option to choose exactly which type of business they're looking to set up. The options include:
Coaching/consulting
E-commerce
Personal website
Health & fitness
Art & creativity
Personal development
Spirituality
School & university
Network marketing
Non-profit
HR or internet training
Other business
What's more, in case you already have an online course, you can easily set up various necessary templates with just a few simple clicks of the button. This will make the whole process infinitely simpler and faster, which is precisely what you're looking for.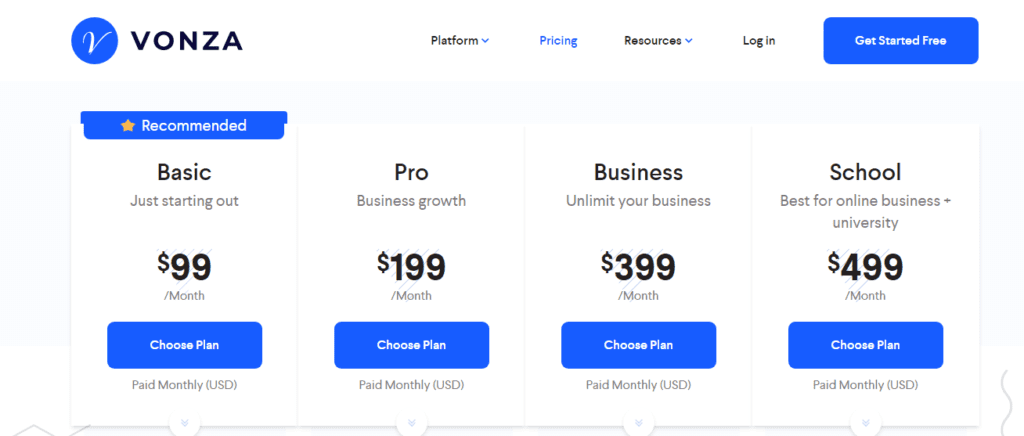 Customer engagement
Customer engagement is one of the most important factors when it comes to running any type of online endeavor.
This not only encompasses the way in which you engage and communicate with your customers, but it also refers to all the ways of finding them and reaching out to them.
The good news is that email is still one of the best means of reaching out to and engaging with your audience. With the help of email marketing, you can easily find and reach out to your audience, foster seamless communication and – in turn – boost your revenue.
Needless to say, Vonza offers the opportunity to store significantly more leads or email addresses than any other platform. This is one of the key reasons why Vonza currently takes the lead compared to other similar platforms out there.
Video safety
This is one of the perks of Vonza, compared to other platforms, that's particularly important for all the coaches and tutors out there.
If you're selling any type of courses online, and especially the ones in video format, Vonza is arguably the best option for you.
With its fixed backdoor, Vonza enables you to upload and sell your videos without the fear of any of them being exposed to any type of unauthorized access. That way, coaches and tutors can rest assured that their video content is entirely safe and fully protected against theft.
Courses
Another great feature offered by Vonza to all the coaches, tutors and online teachers comes in the form of discussion forums and live webinars.
This allows you to not only engage with your audience but actually encourage them to stick around. Being able to have discussions and debates about your topics will make your audience more prone to keep coming back for more.
Being able to discuss everything they've learned with others will not only turn your audience into customers, but it will turn them into loyal customers, which holds even greater importance.
It's important to note that, Kajabi for instance, doesn't offer this type of feature, so it becomes more than obvious why Vonza takes the lead here as well.
Better customer service
Needless to say, in this day and age, customer service plays a huge role in any online endeavor's success. Being able to offer your customers 24/7 support is of the utmost importance, which is why Vonza offers nothing less.
On the other hand, Kajabi, for instance, is solely focused on their US customers, and their customer support is only available during regular US working hours.
Vonza is the leading Kajabi competitor, and its helping coaches, entrepreneurs and course creators easily grow their business online.
No technical knowledge required
Another point that we've previously made is that tech fatigue is real. It can be extremely frustrating to have to learn how to use the new platform you've recently started using, especially if the platform is not really user-friendly.
The good news is that Vonza requires no prior technical knowledge, as it is extremely intuitive and user-friendly. Naturally, this makes the learning curve next to nonexistent, which is great news for any new user.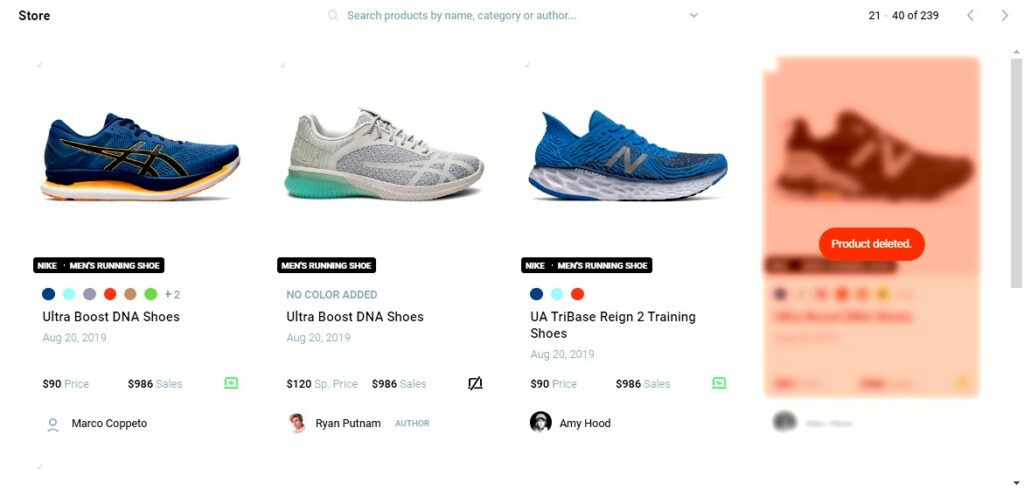 Cheaper pricing and free migration
Last but not least is the fact that Vonza truly does offer more for less. By simply not having to pay for all of the additional features it offers, you will be really saving up a pretty penny.
You can easily compare the prices of all the services offered by Vonza with other platforms, as there really are no hidden costs.
What's even better is the fact that migrating to Vonza from other platforms is entirely free of charge. So, you can easily rely on their migration services that come for free with any Vonza Annual plan while you sit back and relax.
Final thoughts
Vonza is really superior to Kajabi when you take into account everything it offers – at a lower price, at that!
So, if you're a coach looking to build and establish your online presence, make sure you check out Vonza – for free and enjoy all the perks it offers.
Author bio
Rick Seidl is a digital marketing specialist with a bachelor's degree in Digital Media and Communications, based in Portland, Oregon. With a burning passion for digital marketing, social media, small business development, and establishing its presence in a digital world, he is currently quenching his thirst through writing about digital marketing and business strategies for Find Digital Agency.