Looking for a Thinkific Alternative with enhanced control and more diverse features? Vonza is your sure alternative to Thinkific.
There is no doubt that Thinkific is a powerful platform for course creators to create and market their content.
However, the platform has limited features and tools and might not be helpful if you're looking for a complete business management solution.
For instance, the platform doesn't allow you to build an online store or display your digital products. Likewise, you can't enjoy other perks like built-in email marketing solutions, live notifications, sales funnel, customized dashboard, and more with Thinkific.
On the other hand, Vonza is an all-in-one platform that caters to the needs of course creators, affiliate marketers, entrepreneurs, and small businesses.
From e-commerce functionality and email marketing to flawless website builder and customer relationship management, you can do it all with Vonza without needing any third-party integrations.
Let's have a look at the similarities and differences between Vonza and Thinkific to help you decide why Vonza is a better option.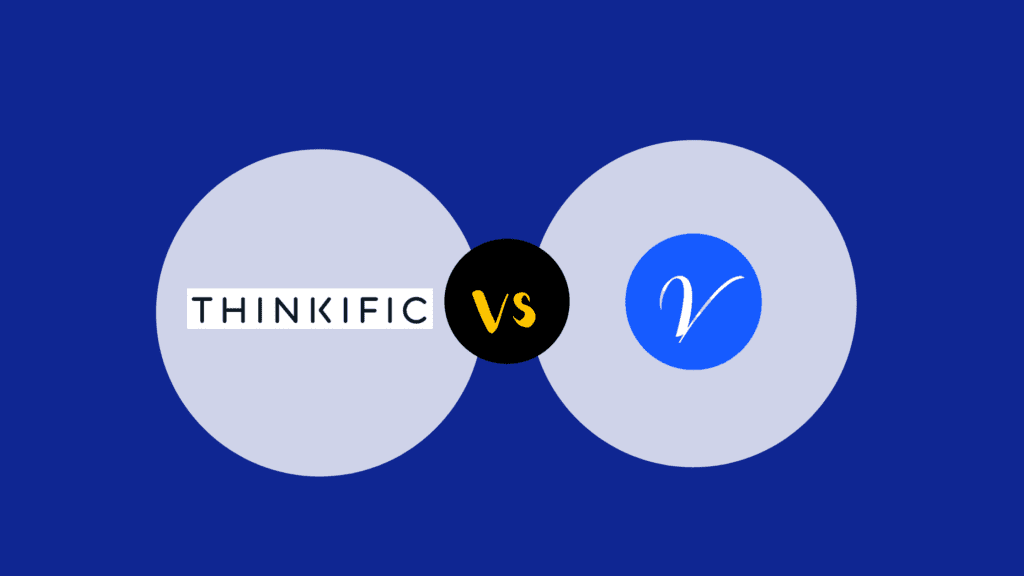 Thinkific vs. Vonza- Similarities
Below are a few features that both Vona and Thinkific offer:
Both platforms offer easy drag-and-drop website-building tools.
Either platform allows you to create and design courses, multimedia lessons, quizzes, etc.
Both platforms have drip-scheduled content functionality.
Either platform have analytics and reporting tools so you can better organize and track your progress.
Both platforms offer easy-to-use website templates.
What Makes Vonza the Best Thinkific Alternative?
Where both platforms offer some functional features for course creators, Thinkific is a more specific tool with limited control. Vonza is the most popular Thinkific alternative.
Looking for a Free Thinkific Alternative? Vonza is Your Answer! Vonza gives you a very robust course creation platform plus other features and tools you need to start and grow your online business.
Here's the Best Free Thinkific Alternative with 10x More Features
Vonza has an upper hand when it comes to some unique features and resources as discussed below:
1. All-in-One Platform
If you're planning to expand your business beyond just course creation or you want to get rid of third-party integrations, then Thinkific may not be the right option for you.
However, Vonza combines features of around 16+ tools and software to provide a complete business solution.
You may find its packages a bit more expensive than Thinkific, but they're worth the features and benefits you get.
For example, Thinkific's basic package only offers 12 features limited to course creation and marketing only. But Vonza's basic plan offers 20+ features, including all features of Thinkific and other solutions like instant payout, access to Vonza University, affiliate programs, built-in email marketing, landing pages, and more.
Vonza not only allows you to manage and market your online courses and digital products but physical products as well.
2. School Management System
Thinkific doesn't offer a school management system software.
Vonza beats every other course creation platform when it comes to complete education software for streamlining your institute's operations.
The Enterprise Resource Planning (ERP) solution of the platform allows you to host your degree, do live sessions, collect fees, and manage all your operations more efficiently.
No matter if you own a school, college, or university, Vonza caters to the needs of all small and large institutions.
Here are some unique features of the Vonza School Management Software:
Create an exceptional website for your institute powered by Vonza School.
Efficiently manage your students, courses, live sessions, and lectures.
Seamlessly manage the admission process at all stages with Vonza's CRM system- do it all from filing applications to paying fees and getting enrolled.
Create degrees, courses, and online stores with Vonza's all-in-one suite.
Schedule appointments, admissions, SMS text messaging, funnels, forms, email campaigns, and more without any this-party integration.
Create and manage live classes with high-quality video streaming.
Collect admission fees, tuition fees, and more with seamless integration with Stripe, PayPal, AmEx, and more.
3. Powerful Email Marketing
Your online teaching journey is a lot more than just creating courses and building a website. You need to market your courses to spread the word about your content and find more students.
Though both Vonza and Thinkific offer tools like drip scheduled content, promotions, and coupons, Vonza has more diverse marketing tools.
With Vonza's automated email marketing feature, you can create and schedule brilliant email marketing campaigns in no time. Its simple editor and customized email templates have made it easy for you to segment and personalize your campaigns.
You can also design subscription forms with Vonza to collect your customers' emails and data without hassle.
Moreover, the platform allows you to create compelling landing pages to showcase your products or services and offers to convert more customers and grow your subscription list.
4. E-commerce Store
Where most course building sites, including Thinkific, allow you to sell digital products, Vonza is one of a kind platform where you can sell both digital and physical products.
The platform allows you to build a robust e-commerce store to display all your products. With Vonza's simple drag & drop tool, you can customize the theme of your online store within a few clicks.
The unique "video highlight" feature of the Vonza lets you showcase video highlights or demonstrations of products, thus increasing the chances of conversion by 73%.
Vonza also optimizes your site SEO to ensure that your products or services pages rank higher on search pages and come in front of your potential customers.
In addition to this, Vonza's e-commerce store is fully responsive so your visitors get a seamless experience across multiple devices.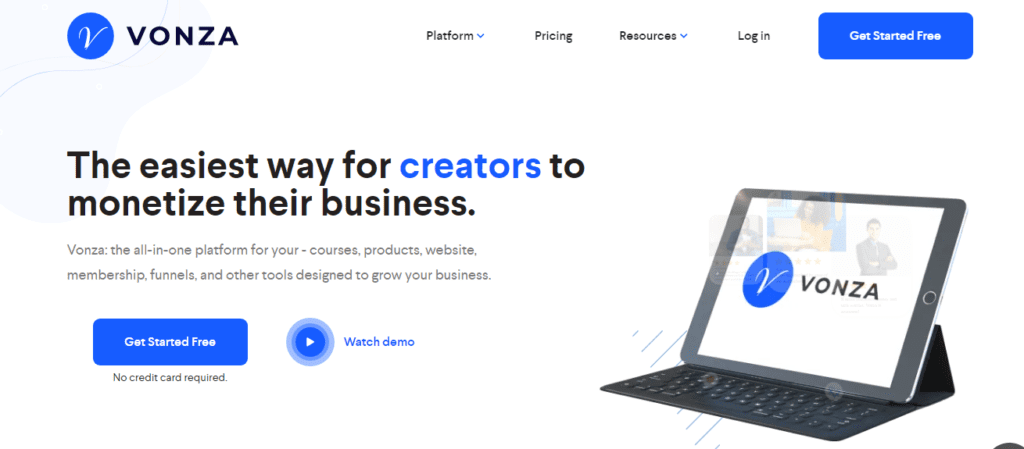 5. Robust Sales Funnel
Thinkific doesn't offer sales funnels. However, a sales funnel is important to visualize every stage in a customer's journey and take them on the path of conversion.
Vonza allows you to build your sales funnel with ease and perfection. The platform offers both pre-made templates and drag-and-drop features so you can create brilliant sales funnels for your courses, digital products, physical products, services, and more.
It also optimizes your funnels for SEO and better reach. In addition to this, you can easily create and manage your private sales team with Vonza's affiliate center.
Vonza vs. Thinkific – A Quick Comparison
| | | |
| --- | --- | --- |
| Features | Vonza | Thinkific |
| Forever Free Plan | Yes | Yes |
| All-in-one Platform | Yes | No |
| Courses | Yes | Yes |
| E-commerce Store | Yes | No |
| Drag & Drop Builder | Yes | Yes |
| Customized Dashboard | Yes | No |
| School Management System | Yes | No |
| Digital Products | Yes | Yes |
| Physical Products | Yes | No |
| Live Notifications | Yes | No |
| Drip Scheduled Content | Yes | Yes |
| Sales Funnel | Yes | No |
| Email Marketing | Yes | No |
| Website Templates | Yes | Yes |
| Analytics and Reporting | Yes | Yes |
| SEO | Yes | No |
| CRM | Yes | No |
| Appointment Scheduler | Yes | No |
Migrate to Vonza for Free Now!
There's no doubt that Thinkific is an excellent tool to create and sell your online courses. However, the platform lacks the necessary features for marketing your content and optimizing it for search engines.
Our migration service is free and all you have to do is relax while move all your downloads, courses and switch your customers over from Thinkific.
Migrations are FREE on any Vonza Annual plan you choose. Switch over easily today.
On the other hand, Vonza offers a complete solution for creating, marketing, selling, and managing your online courses in one place. It eliminates the need of using multiple tools and third-party integrations for managing various operations. Moreover, it allows you to create sales funnels and sell physical products as well.
If you've finally decided to migrate from Thinkific to Vonza, you can do it now for FREE.
Signup for Vonza's free trial today and manage and scale your online business faster!