This is a three-day virtual event for creators to help them create a profitable online course and monetize their creativity. This summit is free to register. Join us on May 3-5, 2022 for this unforgettable virtual event with live demos, informative sessions and live Q & A.
Turn your expertise into a profitable online course in 3-days!
We know that being a creator can be overwhelming. From knowing what kind of course to create to actually marketing and selling the course. We want to help you scale these hurdles with the best sessions and proven speakers during your journey.
How is the Summit Structured?
The Creators' World Virtual Summit will take place over three days from May 3-5, 2022. Once you register for free, you will receive a confirmation email. Click on the register buttons to register. Summit sessions run from 10AM EST to 1PM EST daily.
We recommend you attend all sessions live so that you can participate in our live Q & A and also an opportunity to win some creator gifts from Vonza.
May 3-5, 2022
Daily Sessions 10AM -1PM (All times in EST)
Summit Topics:
1. Business Success mindset training
2. How to build your confidence to launch your online course
3. How to choose your course topic/ niche
4. How to generate your course outline
5. How to price your course
6. Step-by-step tutorial on using the Vonza platform to create your first online course
7. Building your audience for your course launch
8. Social media marketing hacks
9. How to write a good sales copy
10. How to create your first sales funnel
11. Strategies for a 5-figure course launch
12. How to build a money-generating website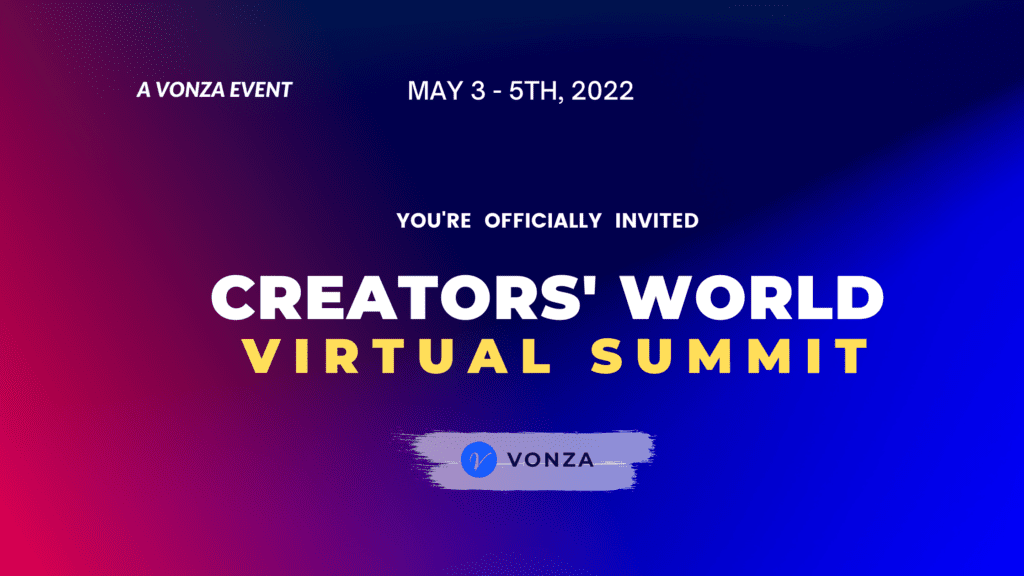 Who are the Speakers?
During the Summit, you will learn from 12+ skilled influential thought leaders who will speak on the topics highlighted above. They will enlighten creators on how to create a profitable online course within the shortest possible time with the right tools and resources. Some of the speakers are included below:
Dr. Marquel Russell: Arguably one of the best when it comes to revenue growth for coaches and consultants, Marquel Russell is a multimillion-dollar revenue generator, best-selling author, Rapid Business Growth Strategist and coach who has earned the title, "King of Client Attraction" and been called one of the greatest marketing geniuses of our time. His genius lies in his innate talent of drenching clients in a downpour of qualified leads that convert into more clients and increased profits. His sharp-shooting approach to lead generation has helped coaches and consultants pull in more than $250 million in client success stories.
Brittany Sherell: She is the founder of Elam & Co., a global training and personal development brand, where she currently works with high-achieving professionals and emerging entrepreneurs as an Executive Coach and Corporate Trainer. She is a dynamic TEDx speaker, she has spoken for thousands of organizational leaders and has been featured in Authority Magazine, UpJourney, and ImproveHerHealth.
Ty King: She is is the founder of Resource Bestie, which provides web design, branding and digital marketing services, to entrepreneurs desiring to level-up their business. Ty has 13+ years of experience in the tech industry, 12 years as an entrepreneur and a passion for helping others remove obstacles that prohibit them from achieving their dreams.
Dr. Uyi Abraham: Uyi Abraham came to America with only $100 and a suitcase of clothes and now founded Vonza.com the first black owned all-in-one software for entrepreneurs and creators to easily start and grow their business online. He grew Vonza.com from Zero to 5,000 customers and $25 Million in valuation in under 2 years. He is a highly sought after speaker, author and business coach. He has been featured on Forbes, CNBC, Yahoo Finance and ABC.
Brie Boyd: Brie is an Advertising Marketing Rep who helps small business owners grow their customer base through Facebook Ads.
Karen Miller: Karen is a Reiki Master/Teacher and spiritual coach and the founder of Ravynwood Healing. Inspired by her own personal healing journey of transforming her own life from hating-her-life hot mess to one of living in peace flow and joy, she now helps other women to move past their old programming through Reiki training and spiritual coaching so that they can believe in themselves, listen to their inner voice and move forward in a powerful, fearless, and inspired way so that they can create lives they love, filled with peace, flow, joy, meaning and purpose.
Dr. Faith Abraham: She is an award-winning coach and has mastered the ability to start a coaching business from scratch and take it to 6 figures. She has since helped others build their own businesses and thrive in their respective fields. She is the founder of Life Mastery School & co-founder of Vonza.com.
And many more.
We cannot wait to have you at the Summit. Register for free now.